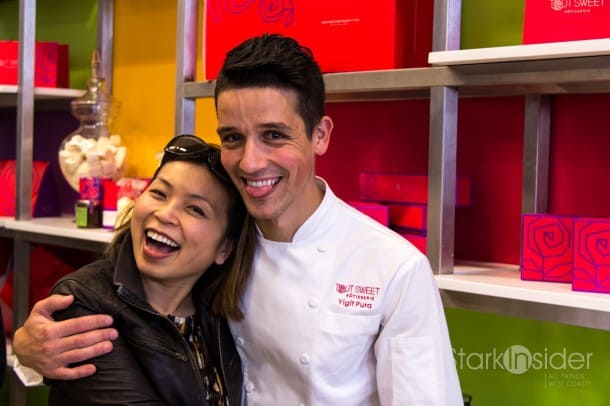 First came the hug. But of course! This is, after all, the magnanimous Pastry Chef supreme, the winner of Bravo's first season of "Top Chef Just Desserts" and the talk of the town. Yigit Pura is the culinary artist behind a new pastry shop called "Tout Sweet Pâtisserie" nestled inside Macy's Union Square in San Francisco.
I was invited to a preview of the new shop last night. Enticed by a decadent dessert bar, bubbly and plenty of socializing, who could resist?
Not I!
The colorful, artistic desserts flowed, as did the champagne, and I enthusiastically previewed what was to come. The shop is a partnership between Pura and Taste Catering co-owner's MeMe Pederson and Janet Griggs.
Flashback

In case you missed it, here's the scene as Yigit was named winner of "Top Chef Just Desserts":
Design-wise Yigit — who began his culinary training in the pastry arts at the age of four in Ankara, Turkey — clearly has an eye for the modern. Clean lines, chic vibes are the order of the day. White is definitely in, as is minimalism. He notes, "It is important to me that the store design be as equally stunning as the treats and add to the overall Tout Sweet experience."
I suspect this new shop will become a popular tourist destination, especially given Yigit's popularity thanks to his television appearances and welcoming personality. One word of warning: be ready for sensory overload. There's something here for everyone: pâte de fruit, verrines, cookies, confitures, marshmallows, cakes and pastries, macarons, "nibbles" and breakfast and lunch items featuring ingredients sourced from the world renowned Ferry Plaza Farmers Market. Thankfully – as Clint readily pointed out — this shop is also equipped with a serious espresso rig.
But enough talk, here's the video and photo preview.
Tout Sweet opens to the public September 8, 2012.
WATCH: Tout Sweet Media Preview – Thursday August 30, 2012
IN PHOTOS: Yigit Pura and Tout Sweet Pâtisserie at Union Square, San Francisco