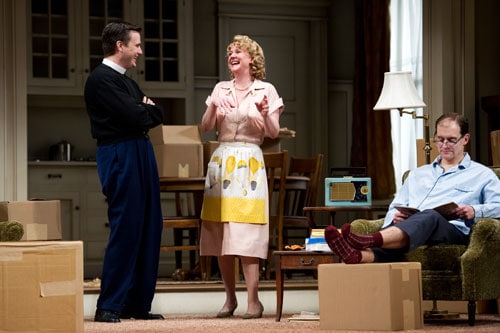 "There are a few choice words used in the second act of Clybourne Park that you rarely hear used anywhere, let alone on the majestic A.C.T. stage in San Francisco. But, man, do they ever bring the house down!"
That, from Clinton Stark's review of provocateur Bruce Norris' new play, Clybourne Park, that just won a Tony Award for best new play.
Set in a middle class Chicago neighborhood, a "colored" family is about to purchase a home from a grieving couple against the wishes of some neighbors including a minister. One particularly vocal couple, Karl and his deaf wife want to nix the deal. Where will this new family buy their food, they argue — surely not from their own local grocery store.
The play is currently running at New York's Walter Kerr Theatre.
Celebrating the best of Broadway, other 2012 Tony Award winners include Once (Best Musical), Nina Arianda (Best Performance by an Actress – Venus Fur), James Corden (Best Performance by an Actor – One Man, Two Guvnors), Steve Kazee (Best Performance by an Actor in a Leading Role in a Musical – Once), The Gershwins' Porgy and Bess (Best Revival of a Musical).
More from the Stark Insider review of Clybourne Park:

"Sometimes people ask us why we do theater on Stark Insider — why not just pander to the masses and cover Apple products full-time for instance? See Clybourne Park. That's your answer."