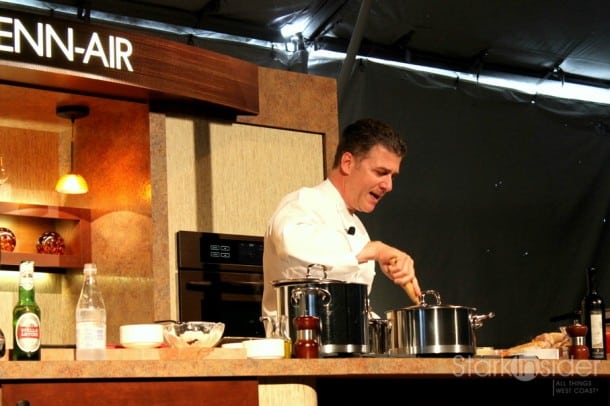 Good news fans of fine wines and culinary adventures (and events that use an exclamation mark in their names!) …
Following a successful 2011 debut, an array of Napa Valley-based celebrity chefs, restaurants, vintners, sommeliers and artisan food producers are set to once again headline this year's Flavor! Napa Valley food and wine festival, scheduled for November 14 – 18, 2012.
"The 2011 event exceeded our expectations and drew more than 3,000 people to the Valley during a time of year that is traditionally lower occupancy," said Clay Gregory, president and chief executive officer of the Napa Valley Destination Council. "We were also able to make a substantial donation to The Culinary Institute of America (CIA) from the festival's net proceeds."
Napa Valley Chef Michael "cooking as a sport" Chiarello, the originator of the concept, is joined again this year by fellow Napa Valley chefs such as Thomas Keller, Christopher Kostow, Cindy Pawlcyn, Jeffrey Jake and Masaharu Morimoto.
Visiting graduates of The Culinary Institute of America include Scott Conant, returning for his second year, along with Geoffrey Zakarian, Johnny Iuzzini, Charlie Palmer, Larry Forgione and all three of his sons – Marc, Sean and Bryan – cooking a course together at the opening night tribute dinner to their father, a chef often referred to as the "Godfather of American cuisine."
Wine experts include author and CIA graduate Rajat Parr, the wine director of the Mina Group, along with Karen MacNeil, Chairman of Professional Wine Studies at the CIA and author of The Wine Bible and Napa Valley resident Andrea Robinson, the first female Master Sommelier in the United States.
WATCH: Michael Chiarello, Iron Chef Morimoto talk up some Flavor!
According to festival producer Herb Karlitz, one of the festival highlights is a two-day tasting of wines "that have and continue to put Napa Valley on the map, reaching back to the post-Prohibition wines of the '40s through the present day." Featured wines on day one are the '57 Louis Martini Pinot Noir, '66 Charles Krug Vintage Selection Cabernet Sauvignon, '76 Joseph Phelps Insignia, '77 Beringer Private Reserve, Cabernet Sauvignon, '78 Heitz Wine Cellars Martha's Vineyard Cabernet Sauvignon, '78 Chateau Montelena Estate Cabernet Sauvignon, '79 Stag's Leap Wine Cellars S.L.V. Estate Cabernet Sauvignon, '83 Shafer Vineyards Hillside Select Cabernet Sauvignon , and 2001 Schramsberg Vineyards Blanc de Blancs Late Disgorged bottling, among others.
On day two, attendees experience special tributes to legendary winegrower Andy Beckstoffer and winemaker Heidi Barrett, including wines from Bacio Divino Cellars, Carter Cellars, Schrader, Tor Kenward Family Wines and La Sirena as well as examples from David Arthur Vineyards, Hundred Acre and many others. Curated by Anthony Dias Blue of The Tasting Panel magazine and the Napa Valley Vintners, the tasting features winemakers and vintners sharing their personal perspective on their wine and its place in Napa Valley's history.
WATCH: How to taste wine like a pro – with master sommelier Andrea Robinson
FLAVOR! NAPA VALLEY SCHEDULE

Terroir to Table: Farm|Cellar|Kitchen
November 14-15. 10-2pm and 3-7pm
Throughout the Napa Valley at nine farm, cellar and kitchen locations
Nine Terroir to Table workshops are held over two days, each running for four hours. These experiential workshops include:

-Olive to Oil, at Round Pond Estate: A hands-on peek into artisanal olive oil harvest
-Hand Made Gnocchi, at Oenotri: Gnocchi making with Napa's newest culinary darlings Tyler Rodde and Curtis Di Fede
-Secrets of the White Truffle, with La Toque Chef Ken Frank: Using truffles for home cooking
-The Magic of Bottle Blending, at Judd's Hill: Play winemaker for a day with Judd Finkelstein

Amusée Napa
November 14, 5:30-8pm
500 First Street, Napa
Whetting appetites for festival days to come, Amusée Napa is a tasting of amuse bouche offerings, artfully prepared by downtown Napa's favorite eateries and paired with complementary Napa Valley wines.

Welcome Dinner
November 15, 7-10pm
Silverado Resort and Spa
Michael Chiarello, Charlie Palmer, Jeffrey Jake, Johnny Iuzzini and Marc, Bryan and Sean Forgione prepare a memorable meal to officially kick off Flavor! Napa Valley 2012 and offer a tribute to the "godfather of American Cuisine," Larry Forgione.

Legends of Napa Valley: A Definitive Tasting
November 16-17, 8:45am-12:30pm both days
The Culinary Institute of America at Greystone
Legendary winemakers dip into historied cellars to lead a glass-by-glass journey through Napa Valley's oenological history. On Friday, tasters experience rare wines from Napa Valley's illustrious founding wineries. Saturday is devoted to modern pioneers ushering the region into the next wave of great winemaking.

The Appellation Trail: Tasting Napa Valley
November 16, 6:00 – 9:00 pm
The Culinary Institute of America at Greystone
Flavor! Napa Valley's grand tasting welcomes participating chefs such as Masaharu Morimoto of Morimoto Napa, Ken Frank of La Toque, Robert Curry of Auberge du Soleil, Philippe Jeanty of Bistro Jeanty, Stephen Barber of Farmstead, Victor Scargle of Lucy at Bardessono, Almir Da Fonseca of the Wine Spectator Greystone Restaurant, Perry Hoffman of étoile at Domaine Chandon, Tyler Rodde and Curtis Di Fede of Oenotri, Bob Hurley of Hurley's, Chef Brandon Sharp of Solbar, Philip Wang of French Blue, and many talented peers. Over 100 of the Valley's top wineries will be pouring their finest vintages to complement the amazing array of food.

Cooking Demonstrations
November 16-17, All day
The Culinary Institute of America at Greystone
Two days of education programming at St. Helena's CIA campus feature CIA alumni and Napa Valley chefs. All demonstrations include tastes of the recipes prepared and a wine pairing from Domaine Chandon and Newton Vineyards.

Chefs and seminars include:

-The Importance of Selecting Fresh Produce, with Thomas Keller of The French Laundry
-Food Fight! With Michael Chiarello of Bottega Napa Valley and Geoffrey Zakarian of The Lambs Club
-Pasta & Pastry, with Michael Chiarello and Pastry Chef Christina Kaelberer of Bottega Napa Valley
-Harvesting & Preserving from Meadowood Gardens, with Christopher Kostow of The Restaurant at Meadowood
-Cindy's Supper Club, with Cindy Pawlcyn of Brassica
-East Coast Boy Meets West Coast Garden, with Johnny Iuzzini of Top Chef Desserts
-One Ingredient, Two Ways, with Scott Conant of Scarpetta.
-Interactive Lunch, with Chef Masaharu Morimoto of Morimoto Napa
-Cooking Seasonally with the First Family of American Cuisine, with Larry Forgione of An American Place, Marc Forgione of Restaurant Marc Forgione, Bryan Forgione of Society Cafe and Sean Forgione of The Wynn Las Vegas

Wine Tasting Events
November 16-17, All day
The Culinary Institute of America at Greystone

– Top Taster Blind Wine Tasting Pro Am, hosted by Master Sommelier Andrea Robinson
– Big Time Crush: Wine and Food Pairing, with Master Sommelier Andrea Robinson & her husband John Robinson
– Secrets of the Sommeliers: The Art of Blind Tasting, with Rajat Parr, Wine Director, The Mina Group and guest panelists Christie Dufault, wine instructor at the CIA and Jordan Mackay, co-author of Secrets of the Sommeliers
– A Hedonist's Ultimate Tasting (Wine & GODIVA Chocolate tasting), with Karen MacNeil, Chairman of the CIA's Professional Wine Studies Department and GODIVA Senior Chef Chocolatier David Funaro

Dinner with Napa Valley Winemakers
November 17, 7-10pm
Silverado Resort and Spa
Each table is hosted by a renowned Napa Valley winemaker or vintner who has carefully chosen the wines to pair with the evening's decadent multi-course meal.

Conservatory Dinner with Chef Larry Forgione
November 17, 7-10:30PM
The Culinary Institute of America at Greystone
Talented CIA students assist legendary chef Larry Forgione, the Co-Founder and Culinary Director of Farm-to-Table Cooking in America: History, Values, and the Future, to preview CIA's upcoming series of farm-to-table-themed dinners.

Terroir to Table: A Sustainable Brunch
November 18, 10am-1pm
Silverado Resort and Spa
Flavor! Napa Valley's closing event Terroir to Table: A Sustainable Brunch features a menu highlighting artisanal local food purveyors and winery counterparts participating in the industry-leading Napa Green program, such as Cakebread and Trefethen.