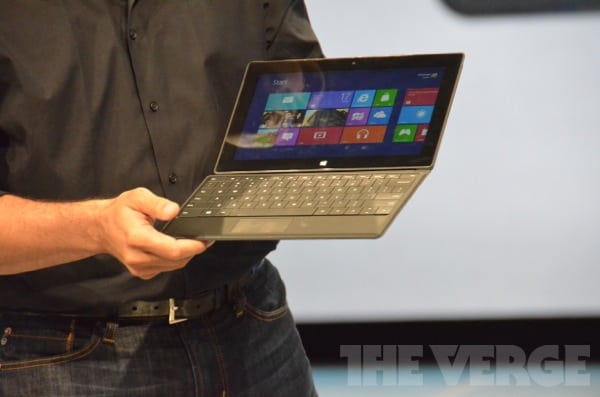 Microsoft today took the first step in its attempt to reimage itself as Apple. With the new "Surface" tablets announced by CEO Steve Ballmer and team in Los Angeles, Microsoft will combine both its hardware and software knowhow into one consumer product in an effort to steal share away from the market leading Apple iPad. We've seen this play out before, and it did not end well. It was called the Zune and the enemy was the iPod.
But first.
Someone please call Donald Draper from Mad Men. How many old, bald men does it take to kick off an exciting, new tech product?!
Okay back to the Surface.
Spec-wise it's pretty much as anyone could've guessed, and not terribly ground-breaking, at least not considering that the target is the almighty Apple iPad: 10.6-inch display, magnesium case, 9.33mm thick, Gorilla Glass. The new tablet is available in two models. Surface for Windows RT (running an NVIDIA ARM processor), and Surface for Windows Pro (intel). From what I understand, the latter will be fully compatible with all Windows software. (note: Apple still rules when it comes to delivering a tight, concise explanation of what's new — essentially giving us the 5Ws in a nicely wrapped giftbox)
There are some interesting twists that could help Microsoft earn some converts, especially those that favor power and flexibility, and might otherwise purchase an Android tablet.
First, there's a full multi-touch keyboard built in to the cover (the "Type Cover"). If it works as well as it looked today, then this could be an attractive — though far from unique — feature. Keep in mind many (many!) bluetooth keyboards exist for the iPad already.
From the department of quirky or inspired department of design (take your pick, preference depending) comes that unusual 22-degree beveled edge.
Since Windows 8 powers the Surface Pro, and not just a crippled touch-based operating system, this is a full blown PC. That means you can run Microsoft Office. It also means you can load up any of your Windows software and run this device as your full-time mobile laptop and tablet of choice. Redmond is surely hoping this changes our collective definition of "tablet" computing.
Unlike the iPad, the Surface will ship with a stylus, and features two sensors. When you start using the pen for input, it will stop registering hand gestures. Steve Jobs famously declared that tablets should be designed specifically for the digits of your hand, and eschewed such a design in favor of iOS, which is designed from the ground-up for touch-based input.
What Ballmer and company does next is anybody's guess, but we'll all be watching. The tablet market needs a strong number two, and right now Android is not delivering. Enter Microsoft…
The Microsoft Surface signals both Microsoft's attempts to copy Apple — 10-inch tablet, vertical integration strategy with hardware and software designed under one roof — but also to carve its own unique trail when it comes to re-inventing the mobile PC. The Surface Pro (which is powered by an Intel chip) is perhaps the best realization of a hybdrid tablet/laptop that we've yet seen, trumping the previous closest example, the Asus Transformer Prime, in several signficant ways.
Hardware-wise, things are definitely looking up for the Surface.
However, the real challenge Microsoft (and every other iPad competitor) faces is apps. It's all about the apps. You can bring great hardware to market, but if the software isn't there, then it's all for not. On that score, today's announcement was marginal. Aside from a reader app with pen input and brief Netflix appearance, there was little else to dazzle and entice.
But that wasn't the only thing that made today's event far from the standards of an Apple launch.
There was no information on pricing and availability. Will it be sold direct? Via Best Buy?
There was no sizzle when it came to showing off apps or software. Clearly Microsoft was proud of its hardware design (perimeter venting!), demonstrating its prowess with several slides and a video. Consumers, however, buy an experience… and they buy based on emotion. Are robust hardware and Windows 8 enough?
There was no celebrity appeal (not that it necessarily matters as much as the aforementioned deficiencies, but events such as these should be about entertainment too if only to play up the "cool" gotta-have-it factor). When Surface ships, will buyers line-up?
Regardless, there is buzz. Finally, Redmond is showing us a tablet that looks like a next generation consumer device, not a kludgy afterthought. And for the next day or two Microsoft will dominate tech headlines with all manner of hands-ons, photo galleries, and first impressions. What Ballmer and company does next is anybody's guess (ship it?), but we'll all be watching. The tablet market needs a strong number two, and right now Android is not delivering. Enter Microsoft…
Surface RT

Windows RT OS
NVIDIA ARM CPU
9.3mm thick
676 grams/23.85 ounces
10.6-inch ClearType HD Display
31.5 watt hour battery
Ports: microSD, USB 2.0, micro HD video, 2×2 MIMO antennae
Storage: 32GB and 64GB
Front and rear-facing cameras

Surface Pro

Windows 8 operating system
Intel CPU
13.5mm thick
903 grams/31.85 ounces
10.6-inch ClearType Full HD Display
42 watt hour battery
Ports: microSDXC, USB 3.0, mini DisplayPort video
Storage: 64GB and 128GB
Front and rear-facing cameras