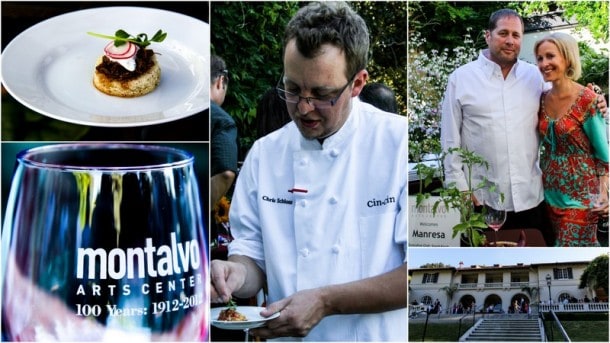 Montalvo Arts Center held their ninth annual Food & Wine Classic last Sunday, and I was fortunate enough to be invited to take in some of Northern California's most exceptional culinary creations, fine wines from Napa, and the breathtaking grounds of the historic villa. 21 chefs, including Scott Cooper (Le Papillon), Chris Schloss (Cin-Cin), David Kinch (Manresa), Josiah Slone (Sent Sovi) and 22 wineries were on hand (Silver Oak, Grgich, Rombauer, Faust, Twomey) , and I made every effort to take one for the team and sample to my heart's content.
WATCH: Montalvo Food & Wine Classic IX
Like the San Francisco Symphony which celebrated its centennial with an incredible Black & White Ball, Montalvo is also celebrating – quite the way to kick off summer here in the San Francisco Bay Area. The historic Villa, set on a hill-top and surrounded by lush trees, expansive views, turns 100 this year. Fortunately, Senator Phelan's legacy for the development of art, literature, music and architecture lives on.
Once again, auctions (live and silent) helped raise funds for education programs for the community: art camps, master classes in low-income schools, and performing arts series for children and families.
Josiah Slone, executive chef and owner of Sent Sovi in Saratoga, did not disappoint with his prowess for all things gourmet tech. The engineering savvy chef had brought along his version of a Vitamix – a large hand-cranked juicer. Designed  to roast entire ducks, Josiah converted the press "for modern use" and was squeezing fresh California melons and pouring the juices over Louisiana crawfish.
One interesting and recent aspect about Montalvo that many might not (yet) know is the addition of a culinary fellow program. Many of us think of music, or the arts when we picture the historic villa and its grounds, but now culinary programs are being integrated. Niki Ford, who is now in residency as culinary fellow explained to me, "Montalvo considers chefs to be artists… I get to explore my ideas and work sustainably."
There's more to come, but I don't want to give away everything here. Stay tuned, a Stark Insider TV segment is coming shortly with all the delectable gourmet in HD. Bon appetit!
IN PHOTOS: Montalvo Food & Wine Classic IX