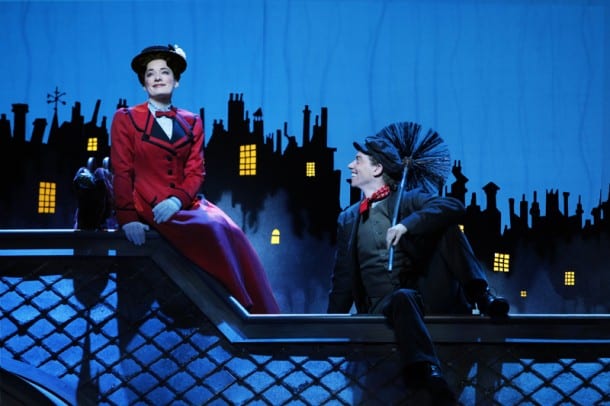 Something curious happened when the houselights when down last night at "Mary Poppins," presented by Broadway San Jose:  the audience began to applaud. While this audience – roughly 80% female – was slightly tilted in favor of women under 40 who brought their children, there was a not insignificant contingent of older adult women. Regardless of age, all seemed hell bent to escape back to Cherry Tree Lane. However smitten I may have been some 45 odd years ago by Dick van Dyke's general cheeriness, and chim-chim-er-ee wistfulness, like St. Paul, I too "put away the things of a child."  This left me mystified as to why Mary Poppins, which just opened at the Center for Performing Arts in San Jose was obviously such a huge draw. Why does this story continue to be so meaningful, generation after generation?
In her December 2005 New Yorker article, Caitlin Flanagan (whose feminism regularly trotted out on the pages of the Atlantic alternately appalls and entrances) sagely observed that these enthusiastic audiences "were children who grew up in an America in which nannies were as unfamiliar to middle-class neighborhoods as Jaguars and Martians. But they would become adults in an America that had invented a new nanny culture. To an astonishing extent, the way they came to think and talk about their employees was shaped by the movie they had seen so many years earlier."  To a large extent, Ms. Flanagan is correct. How many suburban matrons comment that their employee is just like a Guatemalan Mary Poppins?
This raises a curious question as to why we feel the need to project such goodness upon some externalized other who brings order to our households and happiness to our children – as if it was something entirely beyond our ken. But perhaps magic is always best delivered by some other, which is certainly what happened at this opening of Mary Poppins.
However smitten I may have been some 45 odd years ago by Dick van Dyke's general cheeriness, and chim-chim-er-ee wistfulness, like St. Paul, I too "put away the things of a child."
I confess, I came prepared not to like this production. Yet however, when the Bird Woman (Q. Smith) offered up her "Feed the Birds" shortly before the close of the first act, something turned.  This moment held the heart of the entire production.  We see little of this character, yet she carries the emotional center of the entire production.  Without this anchor, the Supercalifragilisticexpialidocious that followed would seem incredibly artful, but soulless. With this anchor, the audience enjoyed a phenomenally well-crafted song that propelled the whole thing forward.
This production brings all the magic of Mary Poppins' bottomless handbag, park excursions, banister-sliding, and other feats of nanny-wizardry. No expense was spared on the technical side of this production, much to the delight of the audience. Defects, such as they were, were largely due to sound mixing, as the mic picked up far too much, leaving the audience sonically-assaulted at moments.  However, these opening night defects will undoubtedly be remedied.
Both Rachel Wallace (Mary Poppins) and Case Dillard) were well cast. If Wallace's vocals were at times grating, her physical persona was perfect, especially for those who grew up on the 1964 movie.  Likewise, Dillard was a perfect counterbalance to Wallace, as the artful, if somewhat inept Bert.  Neither rose to the heights of Q. Smith, but perhaps that was intentional. Also noteworthy was the well-staged choreography, particularly of the chimney sweeps.
You may find it time to relive the Mary Poppins mystery – and catch this production at the San Jose Center for Performing Arts.  Given that it's only running for one week, you have to act fast to get tickets.  If the enthusiasm of the opening night audience is any indication, even Mary Poppins' magic might not help if tickets sell out before the wind changes.