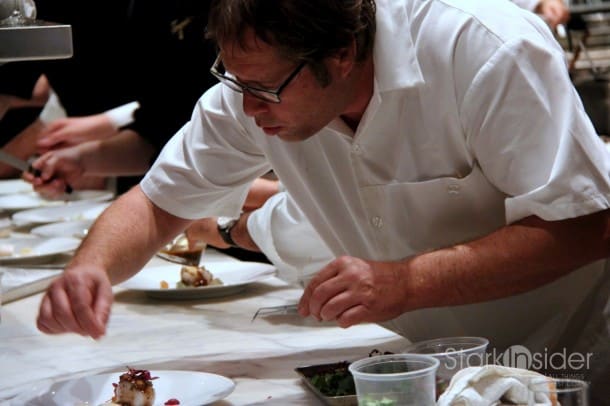 That The French Laundry (Yountville) made the cut was expected, but it was a pleasant surprise to see Los Gatos-based Manresa (Los Gatos) named one of the world's top 50 restaurants. Noma (Copenhagen, Denmark) took the number one spot on Restaurant's annual list that was announced earlier this week at an awards show.
Though the cream of the culinary crop was dominated by European dining spots, Per Se (New York),  Alinea (Chicago) and Eleven Madison Park (New York) all managed to crack the top 10.
Chef David Kinch, no stranger to the cuisine world's stage, continues to be regarded as one the dining world's elite, with a focus on farm-to-table, and innovative dishes that have been dazzling diners in the San Francisco Bay Area for years. The accolades don't appear to be slowing; last year Kinch was named GQ Chef of the Year, and just recently Manresa was awarded a perfect 4-star rating by the San Francisco Chronicle.
My most memorable Kinch  experience was at the Napa Truffle Festival. There Chef Ken Frank hosted a super-star, lustworthy Michelin Chefs dinner at his out-of-this-world La Toque restaurant in Napa. Star chefs Nancy Oaks (Boulevard), Josiah Citrin (Mélisse ), Sylvain Portay (Mix), Gabriel Kreuther (The Modern), David Kinch (Manresa), and, of course, host Chef Ken Frank, teamed together in a display of gourmet ballet extraordinaire.
Fortunately, Chef Kinch generously took some time to chat with me at the Bank Cafe in the Napa Westin, just before heading back in to the kitchen to prep for the evening. Although he didn't want to appear on camera in the interview, he was ever-so-gracious in allowing us to record the segment. We included an excerpt related to his perspectives on truffles in thise video segment we were allowed to shoot inside La Toque's kitchen. Watch the master in action, and congratulations to Team Manresa for the well deserved recognition.
Stark Insider TV: Manresa Chef David Kinch on Truffles
The World's Top 50 Restaurants according to Restaurant magazine

1) Noma (Copenhagen, Denmark)
2) El Celler de Can Roca (Girona, Spain)
3) Mugaritz (Errenteria, Spain)
4) D.O.M. (São Paulo, Brazil)
5) Osteria Francescana (Modena, Italy)
6) Per Se (New York)
7) Alinea (Chicago, Illinois)
8) Arzak (San Sebastián, Spain)
9) Dinner by Heston Blumenthal (London, England)
10) Eleven Madison Park (New York)
11) Steirereck (Vienna, Austria)
12) L'Atelier Saint-Germain de Joël Robuchon (Paris, France)
13) The Fat Duck (Bray, England)
14) The Ledbury (London, England)
15) Le Chateaubriand (Paris, France)
16) L'Arpege (Paris, France)
17) Pierre Gagnaire (Paris, France)
18) L'Astrance (Paris, France)
19) Le Bernardin (New York)
20) Frantzén/Lindeberg (Stockholm, Sweden)
21) Oud Sluis (Sluis, Netherlands)
22) Aqua (Wolfsburg, Germany)
23) Vendôme (Bergisch Gladbach, Germany)
24) Mirazur (Menton, France)
25) Daniel (New York)
26) Iggy's (Singapore)
27) Narisawa (Tokyo, Japan)
28) Nihonryori RyuGin (Tokyo, Japan)
29) Quay Restaurant (Sydney, Australia)
30) Schloss Schauenstein (Fürstenau, Switzerland)
31) Asador Etxebarri (Atxondo-Bizkaia, Spain)
32) Le Calandre (Rubano, Italy)
33) De Librije (Zwolle, Netherlands)
34) Fäviken Magasinet (Järpen, Sweden)
35) Astrid y Gastón (Lima, Perú)
36) Pujol (Mexico City, Mexico)
37) Momofuku Ssäm Bar (New York)
38) Biko (Mexico City, Mexico)
39) Waku Ghin (Singapore)
40) Quique Dacosta (Denia, Spain)
41) Mathias Dahlgren (Stockholm, Sweden)
42) Hof van Cleve (Kruishoutem, Belgium)
43) The French Laundry (Yountville, California)
44) Amber (Hong Kong, China)
45) Vila Joya (Albufeira, Portugal)
46) Il Canto (Siena, Italy)
47) Bras (Laguiole, France)
48) Manresa (Los Gatos, California)
49) Geranium (Copenhagen, Denmark)
50) Nahm (Bangkok, Thailand)