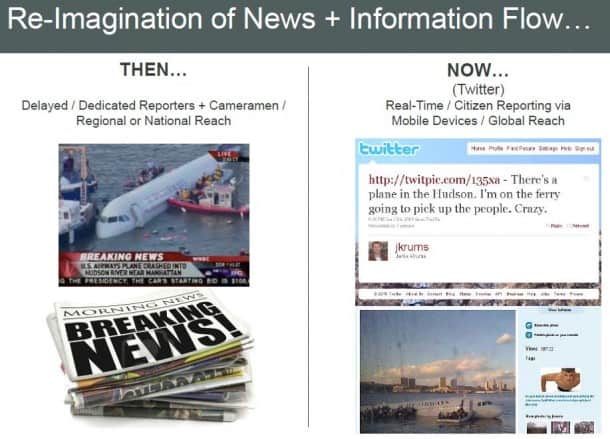 Internet data diva Mary Meeker has released her annual trends report. The Kleiner Perkins Caufield & Byers  partner presented this morning at the AllThingsD (#ATD10) conference here in Rancho Palos Verdes covering everything from the growth of mobile, the challenges facing the global economy faces, and even the hobbled Facebook IPO.
Fair warning: the presentation in 112 slides and includes a tonne of information, trends, data, and charts – much culled from other sources such as Gartner, Morgan Stanley and some directly from KPCB own research initiatives.
If your work (or interest) involves the Web, or social media, or technology in general than this report is a must-read. Download it here directly from the KPCB site, grab a latte (or two) and let Mary give you a 101 on what's going on in the world vis-a-vis technology.
Those of us in attendance at ATD or who watched the livestream are probably searching for some Tylenol or Margarita, or both. Mary is as informative as she is rapid-fire. Have you ever presented 100 slides in a little over 30 minutes? If not, check in with her on how best to bamboozle (yet inform!) a crowd. At least a few called the presentation a "whirlwind." Particularly entertaining is the section where she frames the "re-imagination" of just about everything… Computing (from Desktops/Laptops to Tablets/Smartphones), Life stories (from framed photos/bios to Facebook), Scrapbooking (from glue/scissors to Pinterest), Home Entertainment (from Lean Back/Lean Forward to "Curl Up" with iPad)…
KPCB Internet Trends 2012
Mary Meeker, investment partner, KPCB

Regarding the trend data of Mary Meeker's presentation, here's a few items that caught my eye:

— Android phone adoption is ramping 4x faster than iPhone (iPad is ramping 3x faster).

— India, China and Brazil lead the world when it comes to mobile user growth at 841%, 115%, and  99% respectively (US and Japan still lead in absolute numbers).

— as of January 2012, 29% of American adults own an eReader or tablet.

— in 1995 global Internet ad revenue was $55 million. Today it's over $73 billion (!); ad revenue has similarly jumped from $9 to $49 per user.
If you watched the presentation you may have noticed Mary's repeated love-in for a cool social app for iOS called "Waze." It's a crowd sourcing play on navigation. And, yes, she's (KPCB) is an investor.
The ATD conference continues through tomorrow. Now on stage: Zynga CEO Mark Pincus.
[Mary Meeker/KPCB: Internet Trends 2012 (pdf) ]