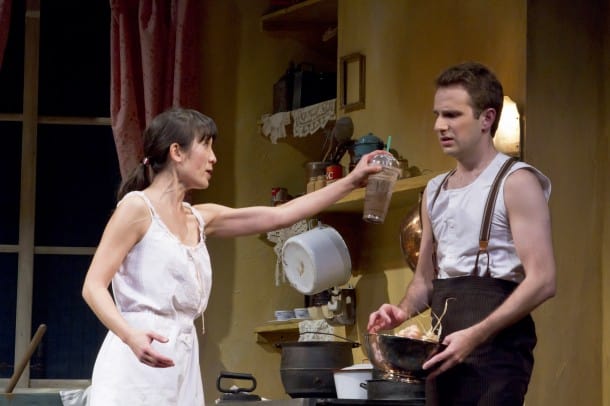 Living in the Manhattan, one is always aware of what came before – if only because one's obscenely priced 6th floor walk-up with claw-footed bathtub in the kitchen has been divided into even tinier digs since it was first inhabited at the turn of the century. This encounter with history inspired a 1982 recording at the Speakeasy on Houston Street by Mark Dunn and Brian Rose:
History B and C,
death and democracy
Winter has come and blown it to bits
Twenty five by ninety, built 1880,
Six floors to walk up on the lower east side
Time is winding these tenement stairs
As the poor play musical chairs,
What Dunn and Rose did musically in the early '80's, Carly Mensch did theatrically in 2010 with Now Circa Then, which just opened at TheatreWorks.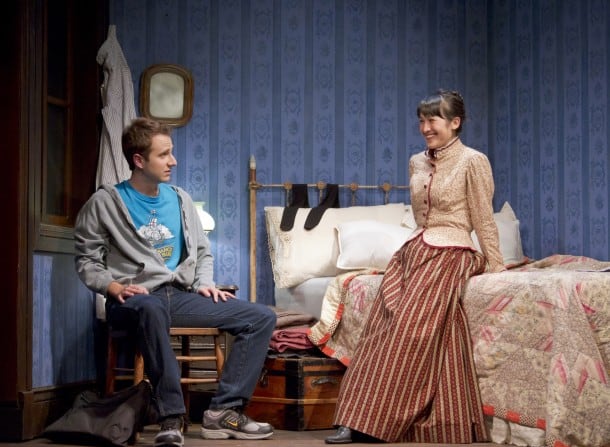 Here we meet historical re-enactors Gideon (Matt R. Harrington) and Margie (Kimiye Corwin), who play Julian and Josephine Glockner, a pair of Jewish immigrants to the lower east side at the turn of the last century. Margie is an unlikely re-enactor, a Japanese midwesterner in a Jewish role, who landed this job with no interest in history or experience in acting. She's a raw contrast to Gideon moves in a world of re-enactors as a means of escaping the present.
The romantic comedy that ensues is laugh-aloud funny. Now Circa Then doesn't stop there, however. As time winds the tenement stairs, Gideon and Margie use the roles of Julian and Josephine to express the tensions in their relationship to such an extent that Margie and Josephine become one and the same, at times. The comic results provide a novel take on a bildungsroman, or coming of age story that is sure to resonate with anyone who lived in a major city in their early twenties.
This show is hugely effective, in part because Matt R. Harrington and Kimiye Corwin deliver flawless performances. Moreover, the richly appointed set, costuming, and music interspersed between what passes for individual acts take this play to a whole new level. Now Circa Then is playing at the Lucie Stern Theatre in Palo Alto. This show is well-worth taking in, especially if you want to visit a younger version of yourself.
Now Circa Then

4 out of 5 stars (Smashing)

TheatreWorks
Lucie Stern Theatre, Palo Alto

By Carly Mensch
Directed by Meredith McDonough
Matt R. Harrington, Kimiye Corwin

March 7—April 1, 2012