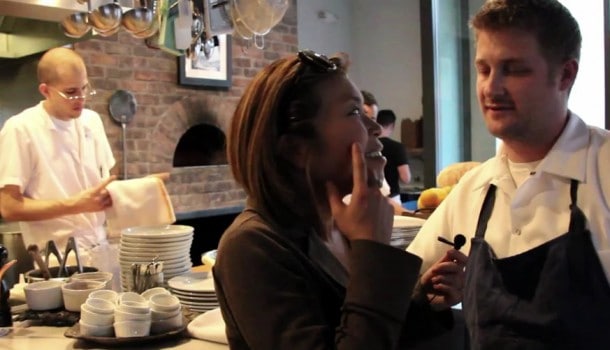 I knew there was something special about Oenotri when I recently visited and spoke with chef Curtis Di Fede.
There's a certain feeling you get when walking into the modern, downtown Napa restaurant located located right across from Gordon Huether's gallery. There's a large wood-burning pizza oven to the right, an expansive open kitchen beyond, and a large, welcoming dining area. Over to the corner on the left is an impressive bar with all manner of cocktails and great Napa wines on offer.
Did I mention they fly in cheese from Italy?
So when Food & Wine magazine named Oenotri best new Italian restaurant in the U.S. I smiled to myself. The story graces the cover of the latest edition (April),  and calls it "unquestionably the most exciting new restaurant in Napa Valley, and arguably the best new Italian restaurant in the United States."  Sounds like Oenotri will be high on my list of places to return on my next Napa sojourn.
Oh, quick tip: ask for the Guanciale.  Watch the video below for the reason why.