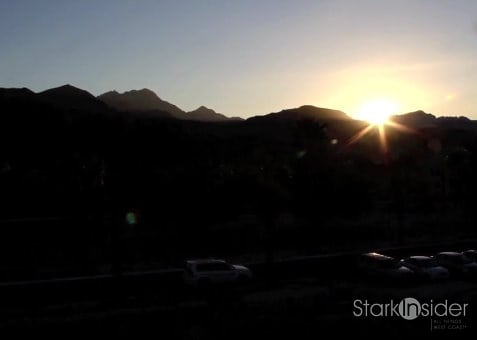 Here's a Baja sunset time-lapse video, shot with a Canon EOS 60D from the viewing tower of our casa in Loreto Bay.
I had to shoot three separate files due to the well-known (and loathed) 4GB recording limit on the 60D (and other Canons too such as the T2i, and T3i). Total recording time was about 30 minutes.
Because I'm on the road and away from the i7/Premiere Pro studio I grudgingly had to use iMovie on my MBP 13 to cut the thing together. This, as many will know, is an exercise in futility. iMovie brings the Mac to its knees. Just importing the three .mov files took almost two hours (a step that would take about 30 seconds with Premiere Pro). The spinning rainbow ball in Mac OS X is a frustratingly playful reminder: take a break, enjoy a glass of wine… this could take a while.
Doing some minor video adjustment was likewise painful. iMovie's upper limit for speeding up video footage is 2,000%. So I had to encode the video, and run it through iMovie a second time, using 400% to achieve the 24 second final output.
As for the final result?
In a word: mixed. Okay: poor. The focus isn't the best. And the video is a nice reminder that I need to clean the lens (Canon 18-200mm)! Not every experiment turns out well. Try, try again I keep telling myself.
F-stop was at 22 so I could get long depth of field. Shutter at 50, which is where I have it for all my video work with the 60D and T2i.
I also had a ND filter to bring down the stops since the sun was so amazingly bright.
I'm all ears (and eyes!) if someone has suggestions and tips on how better to capture time-lapse sunsets. There are no shortage of them here in Loreto, Baja California Sur. Every day around 6pm I make sure I'm able to take in the gorgeous sky, as the sun sets, vibrant and jaw-dropping colors dancing across the Sierra de la Giganta. Soul, stirred.
WATCH: Baja Sunset Time-lapse – Canon EOS 60D