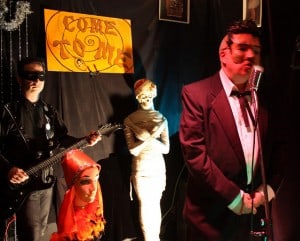 That wild, edgy, eclectic theater tradition lives!
Organizers of the San Francisco Fringe Festival have officially announced the 2012 line-up. As they like to remind us the festival — a cult-like favorite among locals, and theater-lovers across the country — at 21-years old is now of age, and thus SF Fringe is the most experienced of all Indie theatre festivals in the Bay Area. "An adult leading the way for the Indie theatre movement, offering a sweeping new wave of theatre for the 21st century," says proud SF Fringe founder and producer Christina Augello.
The 2012 edition brings to the Exit Theatreplex (3 stages) 40 shows from across the U. S., Canada and beyond. SF Fringe 2012 will take place in September.
The 40 shows in this year's lineup were chosen by lottery from 106 applications. They include 25 from the Bay Area and feature companies from – besides San Francisco – Oakland, Berkeley, Pacifica, San Anselmo, Lafayette, Auburn, Fresno, Walnut Grove, and Dublin.
The San Francisco Fringe Festival is an open-access, non-juried, uncensored theatre festival where performers are selected through a lottery.  The SF Fringe returns 100% of box office earnings to the performing company.  20% of the Standard Venue shows may be up to 90 minutes in length; the others are limited to a 60-minute maximum.
Two local shows delve into theology: from Oakland comes Jesus, Do You Like Me? Please Mark Yes or No.  And from Berkeley, there's Yeshiva Girl Blues.  One San Francisco entry returns to the classics: You Killed Hamlet (or Guilty Creatures Sitting at a Play.)  And two others offer a well balanced look at male and female perspectives with Sia Amma's In Search of my Clitoris and  Glen Callendar's The Revolution Will Not be Circumcised from Vancouver, B.C.
National productions number seven from Southern California, including four from L.A. Others travel from Las Vegas, Smithtown, NY, and Stockton, New Jersey. And from The Big Apple, BrickaBrack Productions brings a show called Stalking Christopher Walken.
The 2012 Fringe Festival Shows

Local Performers (Bay Area):

1. By Azana, Walnut Grove CA
2. To Be Merry, Mary Knoll, Pacifica CA
3. Jurassic Ark, David Caggiano, San Francisco

David Caggiano in Jurassic Ark, one of the shows at the 2012 San Francisco Fringe Festival. Photo: Terry Connor.

4. The Wounded Stag, Dan Carbone & Andrew Goldfarb, San Francisco
5. Antipodes, half.half, Oakland CA
6. hush, Gillian Summers, Lafayette CA
7. What Ever Happened to Sara Jane?, Ady Abbot, San Francisco
8. Best of The Verve Show, FunnymanMalcolm Productions, San Francisco
9. 915 Cayuga's SF Fringe Fest Extravaganza!, 915 Cayuga, San Francisco
10. The Good, The Bad, and The Ugly, Pi: The Physical Comedy Troupe, San Francisco
11. Journey of Light – A Glo-Opera, Fractalecks Inc., Berkeley CA
12. Ze Ren, Xiao Juan Shu, San Anselmo CA
13. The Apeman Cometh, Rapscallion Productions, San Francisco
14. In search of my clitoris, Sia Amma, San Francisco
15. Jesus, Do You Like Me? Please Mark Yes or No, Eileen Tull, Oakland CA
16. Yeshiva Girl Blues, Nancy Pearlman, Berkeley CA
17. Weird Romance, Lisa and Nick Gentile, Dublin CA
18. Weightless, kate kilbane & the cellar doors, San Francisco
19. Melted Inhibitions, Alana Nathel, Oakland CA
20. You Killed Hamlet (or Guilty Creatures Sitting At a Play), Naked Empire Bouffon Company, San Francisco
21. Health and Efficiency, Nigel C. Mentis, Auburn CA
22. The Eternity Project, NOCO/ fresNO dance Collective, Fresno CA
23. Raising Voices: The Musical, Yeti Boy Productions, Berkeley CA
24. BIBLE-NOT? Stories for Grown-Ups, Other Voices, Oakland CA
25. TBA

National Performers:

Cemetery Golf, Jim Loucks, Venice CA
The Collector, Animal Cracker Conspiracy, San Diego CA
The Danger of Gray Fat, Richard Jarboe, Stockton NJ
Confessions of the World's Missionary, Lina Alfinito, Azusa CA
CrAzYToWn, Jude Treder-Wolff, Smithtown NY
CALLING AMERICA: DON'T HANG UP!, R. Sky Palkowitz, The Delusional Diva, Los Angeles CA
John School, The Ghost Light, Los Angeles CA
MY MOBSTER, Joy Nash, Los Angeles
Stalking Christopher Walken, BrickaBrack, New York NY
They Call Me Mister Fry, Sew and Sew Productions, Los Angeles CA
Legacy of the Tiger Mother, Angela Chan, Las Vegas NV

International Performers:

Raunch- The Rise of Female Chauvinist Pigs!, Jacqueline Russell and Alice Nelson, Calgary Canada
L´extimité, Pie con Cuerpo Productions, Madrid, Spain
The Dentist, Razia Israely, Tel Aviv, Israel
The Revolution Will Not Be Circumcised, Glen Callender, Vancouver, BC, Canada