If you haven't heard of the Fringe Festival, then you might be surprised at the quality (and quantity!) of independent theater now showing at two EXIT Theatre locations in San Francisco. The twelve day festival is now playing through Sunday (Sept. 19th) and features 43 shows. I can't think of a better way to sample some of the most intriguing indie work this country has to offer. Over the weekend I wanted to see what fringing was all about. Yes, this newbie is once again incredibly naive; the festival is now in its 19th year. But never too late!
True to its name, the Fringe covers the gamut: drama, comedy, musicals, clowns, puppets, multimedia, dance, absurdism, and sometimes even "work that defies description."
This is the magic of an event that celebrates theater, and calls upon scores of volunteers and patron contributions ("Tip the Fringe") to make it all possible. Amazingly ticket prices are $10 or less per show (block discounts are also available: 5 shows for $40, 10 shows for $75). 100% of the ticket price goes to the performers. It's a winning combination and, based on my day of fringing, I'd recommend you check it out; your imagination will thank you.
The bingo-like schedule at-a-glance in the back of the Fringe guide helped me put together a rapid-fire, diverse Saturday afternoon of theater. I would see a one-woman New York show, then an absurdist farce by a theater troupe from LA, and wrap with an interactive experience by a local hypnotist and psychic. I would stay longer, but I needed to be back down in San Jose for the premiere of Anna Karenina by Opera San Jose. A $1 million production; dichotomy no?
Little Tainted Blood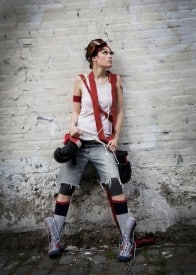 At first I wasn't sure what to make of this one. New York performer Julia Steele, tall and lanky, and sporting tattoos, comes out dressed up in ski goggles, scarves, torn jeans, boxing gloves and a plethora of do-das. An obtuse multimedia presentation ensues, including a projector, narrative voice-over, and a performance of Kim Carnes' Betty Davis Eyes. But soon enough the story comes together and it's a massive sucker punch to the abdomen. If you bury trauma does it turn into shame? The emotion can not be denied as Steele recounts, from Transylvania to Texas, tainted blood lines dating back sixty years. Her memoir is a haunting story, told in an unforgettable style. A must see, and my favorite among favorites on this day.
Magnum Opus Theatre Presents: "Star Crossed Love"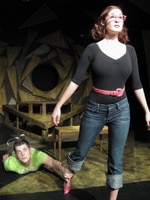 Wouldn't you know it, an LA-based theater troupe uses a rejected Hollywood script as the premise for their satirical skewering of over-wrought screenplays. After the intensity of Tainted Blood, it was nice to take in some fresh city air (although not without a certain amount of Haight-Ashbury magic) as we headed over to EXIT on Taylor, and settled in for some laughs. According to the narrator who welcomes us, the play is a "word for word" reenactment. Sure enough, we quickly learn why this film would thankfully never be made. Magnum brings all the cliched characters and exaggerated prose to life with lots of physical bits and over-the-top antics. Passionate kisses are exchanged by hand, as are hugs. Figurative? Literal? It's an art-house treatment, that sometimes tries too hard to be too clever. No doubt there are laughs, but by the end of the hour, I wondered if the movie and the play were both not worth making. Still, strong, comical performances–especially the physically abusive redneck Aunt, and the stately narrator who reads the script in the corner while sipping a martini.
The Secret Language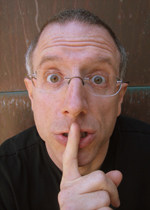 Allen Gittelson, star of this one man, part hypnotist, part psychic show is best described as the anti-David Copperfield. Thankfully, his show doesn't feature slick music and production values, or long wind-blown hair, or super models, or flying cars, or even illusions that always work. Call it magic unplugged. Admittedly, I'm not good with new languages; So when he was unable to "read" me during an on-stage number resembling a scene out of The Dead Zone starring Christopher Walken, I was, of course, not surprised and immediately confessed, "This is not the first time I've screwed up on stage." My favorite trick was his opening bit involving the power of suggestion and the audience, which I won't give away here. Neat stuff. I could easily see the technique he uses later to read audience members' minds. It was very obvious–but I'm not sure if anyone else could tell? Other tricks completely stumped me. Some of his bits involve matters of psychology or real science, which I enjoyed. Although Gittelson lacks schtick or a defining angle that might help him reach a broader audience, it's an enjoyable show. Labeled a hypnotist, note there is no hypnotism in the show–uhhh… at least that I could tell–which may disappoint some. Perhaps the real magic, though, is the price of admission: $7. Recommended.
Note: all shows start on time and no one is admitted late ("not even the playwright's mother who drove up from Oxnard"). Cash only. Be sure to tip the Fringe as donations help carry on the tradition.
And finally: keep an open mind!
San Francisco Fringe Festival
A marathon of indie theater
Uncensored, Unexpected, Unique
Produced by EXIT Theatre
Sept. 8-19, 2010
43 companies
12 days
Tickets $10 or less


Locations: EXIT Theatre, EXIT Stage Left, EXIT Studio, EXIT Cafe, EXIT on Taylor, The 17th Street Plaza, 4 Star Theater, Portsmouth Square.

Some Fringe Background

The original Fringe Festival began in Edinburgh, Scotland, nearly 60 years ago, and has since become an international phenomenon. Fringe Festivals currently bring cutting-edge theatre to more than twenty cities across the U.S. and Canada, as well as in Europe and Asia. San Francisco's is the second oldest in the U.S. Traditionally, international performers appear at the San Francisco festival, many of them having appeared at other Fringes, such as Toronto, Edinburgh, and Prague.