Being at the symphony during the day makes me feel like a kid cutting school. Morning rehearsals are great, but there's the small matter of fighting the traffic up the 101, which feels a bit too much like work. Better still are the rare 2:00 PM concerts, which are late enough to put in a meaningful chunk of time at the day job before heading out to blissful freedom. This Thursday's concert was purely classical program of Mozart and Haydn conducted by the charismatic Rinaldo Alessandrini, with Oliver Cavé on piano.
The concert opened with Haydn's Symphony No 104 in D Major. A stirring piece, packed with colorful pyrotechnics, this work opened with three warning shots, repeated multiple times with timpani before launching into the theme which repeated them in a infinite delicacy on strings. This idea of the warning shot unified the program, as it recurred in other works. The second movement, a stately andante, was a perfect counterbalance. Alessandrini brought the final movement home with an intensity and focus entirely missing from the multiple recordings I've listened to. When the first theme recurs in this final movement, it seems like an old friend.
Sandwiched between the two symphonies was Mozart piano concerto No. 25, K 503, a piece which balances the piano as a solo instrument, against the piano as an accompaniment. I lost count of the number of piano solos in the first movement after the fifth, in part because the transitions between the two were so subtle. Oliver Cave played with an expressive fluidity that made his performance look easy.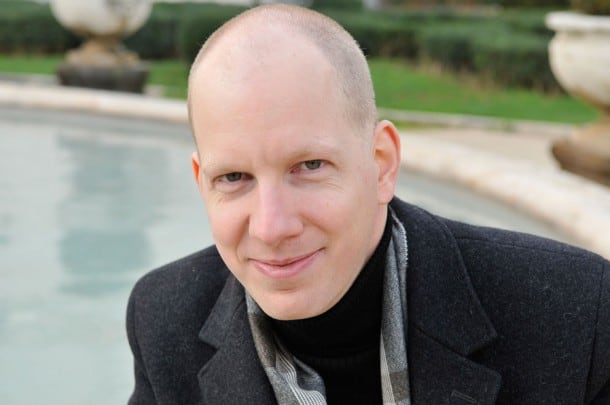 Like the Haydn, the 39th symphony also begins with three warning shots, repeated several times.  Unlike the Haydn, however, these are embellished by short, skittering scalar passages counterbalanced by single clarinet tones, before launching into the first theme. If you struggle to recognize the exposition, development and recapitulation that make up sonata form, the first movement of the 39th symphony provides an easy example to follow. Pedagogy aside, this piece is unmarked by the trademark over-ornamentation that defines so much Mozart. In the hands of Alessandrini and the SFS, its clean lines gave it a heroic bent, particularly the last glorious movement.
One hopes that Alessandrini will be return to the SFS podium in the near future. His sheer enjoyment of the music is obvious and infectious. I'd love to be escaping the work day again to spend time watching him conduct.
Alessandrini conducts the SF Symphony

4 out of 5 stars (Smashing)

San Francisco Symphony
Conductor: Rinaldo Alessandrini
Piano: Oliver Cave