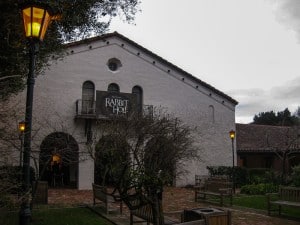 Hordes of class-trip kids brought a frisson of electricity to Palo Alto Children's Theatre today.
I had the distinct pleasure of hanging in the tech booth with lighting designer Pamela Gray during this first performance of Go, Dog. Go!
Both of us had a hard time restraining ourselves.  This script may only have 75 unique words, but taken together, they had the audience jumping up and down in their seats as dogs of all colors cycled through their irrepressible antics with hats that rival Beach Blanket Babylon.
Music director Cole Grissom led the on-stage band that propelled the action ever forward. Go, Dog. Go! sets the bar high for musicals.  Come unleash your inner dog! This is a must see for those three and older.
Go, Dog. Go!

Palo Alto Children's Theatre
Through February 4

Big dogs, little dogs, yellow dogs, blue dogs. Dogs at work, dogs at play, dogs in hats, dogs in cars! It's an all out dog party in this colorful hilarious adaption of P.D. Eastman's beloved book. Go, Dog, Go! promises to thrill audiences with a chaotic carnival of music and physical comedy that celebrates the many joys and challenges of life and friendship. Come unleash your inner dog.

Performances: Thursday January 26 at 7pm, Friday January 27 at 7pm, Saturday January 28 at 2pm and 7pm, Sunday January 29 at 2pm, Wednesday February 1 4:30pm, Thursday February 2 at 4:30pm, Friday February 3 at 7pm, Saturday February 4 at 2pm and 7pm