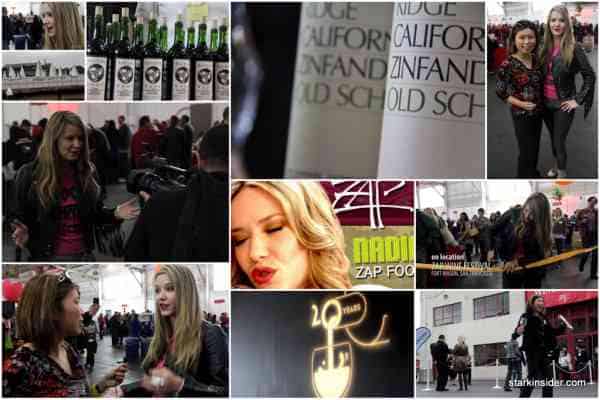 About the only thing January is good for is breaking New Year's rezzies, white sales and San Francisco's three-day ZAP (Zinfandel Advocates and Producers) Festival.
This is the 21st anniversary of this festival honoring said grape with three incredible days of wining, dining, tasting, and partying, starting January 27. You can buy tickets (but you'd better hurry because this is one popular event and you don't want to be shut out) for each of the individual events or really celebrate and really zin-out by attending them all. And if you're smart, you'll be come a member, since the money you'll save on member-priced tickets will more than pay for your membership. See below for even more benefits of joining-such as early entrance for the tasting- how lovely.
Here's the skippy on some of the main happenings. Please note that this year some of the events are being held at a new venue, The Concourse at 8th and Brannon in SoMa, which means a much roomier space for eating  drinking and interacting with your fave wine makers, chefs, and fellow zinnies.
Stark Insider TV – On Location for ZAP Wine Festival, San Francisco
Epicuria: Food & Zinfandel Pairings
Thursday, January 26, 2012 from 6 pm to 9 pm
Discover the Diversity – Take your palate on a culinary adventure as you discover the diversity of Zinfandel and its wide range of complementary flavor combinations. This informal dine-around expedition features pairings of 50 top Zinfandel wines with creations from master chefs. Mingle with winemakers and epicurean experts as you take a journey for the senses while sampling these regional offerings.
Flights – Forums of Flavor
Friday, January 27, 2012 from 10:30 am to 1 pm
Explore the passion – Fuel your passion for Zinfandel as you experience discussions as diverse as the wine itself. At this exclusive seminar-style tasting you will discover themed flights of Zinfandels and interact with Zinfandel experts. Aimed at the true wine aficionado with an aptitude toward learning more, Flights offers in-depth insight into the Zinfandel varietal and provides the opportunity to experience the true character of the legend.
Winemakers Dinner – Viva Las Vegas
Friday, January 27, 2012 from 5 pm to 10 pmA benefit with taste – What happens here stays with you forever as you experience a Las Vegas style benefit with VIP taste. Dress to the nines and bring your lucky charm to this glamorous reception and dinner where you will enjoy private selections poured by premier winemaker hosts. Throw your chips in for our live and silent auction featuring rare and one-of-a-kind lifestyle lots, with proceeds benefitting ZAP programming, education and Heritage Projects.
2012 ZAP Wine Festival

Saturday, January 28, 2012 from 2 pm to 5 pm

The Concourse
8th & Brannan Street
San Francisco, California 94103

From A to Zin – Savor the journey through the world's largest single varietal tasting as you sample from hundreds of barrel samples, new releases and premier Zinfandels. Meet winemakers from each of the unique Zinfandel growing regions and explore the dimensions of this authentically American varietal at the most comprehensive showing of Zinfandel wineries in the world. This distinctively "A to Zin" experience lets your senses guide a spirited adventure through the many tastes of America's Heritage Wine.

Did you know?
Joseph W. Osborne may have made the first wine from Zinfandel in California. He planted Zinfandel from Macondray at his Oak Knoll vineyard just north of Napa, and his wine was much praised in 1857. Planting of Zinfandel boomed soon after, and by the end of the 19th century it was the most widespread variety in California.*
Team Stark hopes to see you there… don't forget your stilettos!
* Source: Wikipedia.