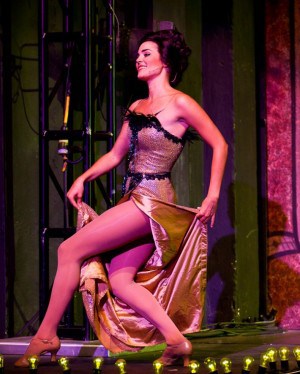 Fans of musicals of all shapes and sizes, get your pencils and calendars out!
Broadway By The Bay, a musical theatre company located along the peninsula in the San Francisco Bay Area, has announced its 2012 season. The season marks the second year of performances at its new home, the historic Fox Theatre in Redwood City.
Three full-scale productions are featured as well as the return of the hit Broadway By The Year series.
Broadway By The Bay's 2012 season kicks off with the Tony-winning Broadway musical Hairspray (April 5 – 22).
Next, the off-Broadway musical The Marvelous Wonderettes (July 12 – 29) hits the stage followed by A Chorus Line (September 20 – October 7), the longest running American Broadway musical of all time.
The season closes with the return of Broadway By The Year (November 8 – 11) a musical and historical snapshot of The Great White Way. The 2012 series will highlight songs from Broadway shows of 1965 (Man of La Mancha, On a Clear Day You Can See Forever) and 1997 (The Lion King, Jekyll and Hyde, Titanic). Hosted by creator Scott Siegel and featuring Broadway performers direct from New York, the show is sure to delight audiences with its well-loved songs.
Each production will play at the 1400-seat Fox Theatre. Located in the heart of downtown Redwood City, the historic theatre is in close proximity to a wide selection of popular restaurants and bars, as well as several nearby public parking areas, making it convenient for theatergoers to enjoy pre-show dining or post-show libations.
Broadway By The Bay – 2012 Season

HAIRSPRAY

Book by Mark O'Donnell and Thomas Meehan
Music and Lyrics by Marc Shaiman
Lyrics by Scott Wittman
April 5-22, 2012

Hairspray sweeps audiences away to 1960's Baltimore, where the 50's are out – and change is in the air! Loveable plus-size heroine Tracy Turnblad has a passion for dancing, and wins a spot on the local TV dance program, "The Corny Collins Show." Overnight she finds herself transformed from outsider to teen celebrity. Can a larger-than-life adolescent manage to vanquish the program's reigning princess, integrate the television show, and find true love (singing and dancing all the while, of course!) without mussing her hair? The show, which won 8 Tony's including Best Musical, includes the rousing numbers "Good Morning' Baltimore," "Big, Blonde and Beautiful" and
the show-stopping "You Can't Stop the Beat."

THE MARVELOUS WONDERETTES

By Roger Bean
July 12-29, 2012 (Press Night Friday, July 13)

The Marvelous Wonderettes takes you to the 1958 Springfield High School prom where we meet the Wonderettes, four girls with hopes and dreams as big as their crinoline skirts! As we learn about their lives and loves, we are treated to the girls performing such classic '50s and '60s songs as "Lollipop," "Dream Lover," "Stupid Cupid," "Lipstick On Your Collar,"
"Hold Me, Thrill Me, Kiss Me," "It's My Party" and over 20 other classic hits! You've never had this much fun at a prom and
you will never forget this show—a must-take musical trip down memory lane!

A CHORUS LINE

Conceived and Originally Directed and Choreographed by Michael Bennett
Book by James Kirkwood and Nicholas Dante
Music by Marvin Hamlisch
Lyrics by Edward Kleban
September 20-October 7, 2012 (Press Night Friday, September 21)

Tony winner for Best Musical, A Chorus Line is a musical-verite about a chorus audition for a Broadway musical. It tells of the achingly poignant ambitions of professional Broadway gypsies to land a job in the show, and is a powerful metaphor for all human aspiration. Memorable musical numbers include "I Can Do That", "At the Ballet",
"Dance: Ten; Looks: Three", "The Music and the Mirror", "What I Did for Love", "One (Singular Sensation)" and "I Hope I Get It".

BROADWAY BY THE YEAR: 1965 & 1997

Created, Written and Hosted by Scott Siegel
Produced by special arrangement with the Town Hall in New York
November 8-11, 2012 (Press Night Friday, November 9)

Broadway By The Year takes audiences of all ages on a musical tour of the Great White Way, offering an entertaining verbal account of Broadway's history. The show features songs from Broadway hits of selected years, sung by a cast of talented Broadway performers. This limited engagement will feature songs from 1965 (Man of La Mancha, On a Clear Day You Can See Forever) and 1997 (The Lion King, Jekyll and Hyde, Titanic).

Season subscriptions (4 shows) range in price from $85 – $175 and are available now by calling 650-579-5565.  Single tickets go on sale in February.