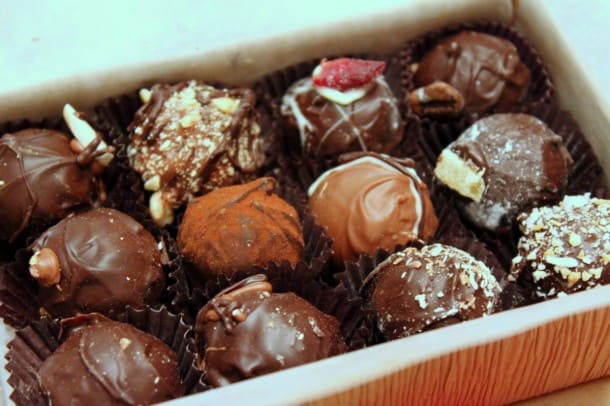 Jim S—, upon entering, handed me a box of truffles which he proclaims are some of the best truffles in Ottawa and perhaps, Canada. Such a statement had me intrigued. Jim is a bona fide foodie having confessed he sometimes takes three days to prepare a dinner and having chided me for my recent, less-than-gourmet, "S'mores No More" Caramilk rice crispy secrets recipe posting.
In the midst of the gluttony of eating that is the holidays, the unassuming box of truffles sat quietly on a corner table, later tucked inside my carry-on suitcase and finally on the large sideboard that divides my kitchen from the family room.
Although the chocolates laid dormant, they were not forgotten. It was only a matter of time before Jim's comments about how revered these chocolates were and the long list of important government dignitaries who have bitten into these chocolate morsels would emerge as pure, unadulterated craving.
With great anticipation, I waited for the perfect moment to lift the box from the sideboard. The texture of the box was a cross between tree bark and corrugated card board. It was both sophisticated and simple. The red ribbon that shimmer just "oh so much" was like an invitation, a tease, a question mark and exclamation mark in one.
A swift yank of the end of the red ribbon, a flip of the lid and there, lay before me the multitude of possibilities. If life is like a box of chocolates, what then is the exhaustive legend that one often finds in these boxes of chocolates? I studied all 30 possibilities before peeling back the gold sticker and peeking under the wax paper.
There, 12 delicate truffles stared back at me. I did read a bit about the chocolatier Lara Vaarre and how Truffle Treasures in Ottawa, Canada started. Lara was a wedding dress designer who wanted to expand her business into wedding cakes. In her quest for a chocolate temper, she responded to an ad in a local newspaper posted by a chef who was retiring. Lara does not disclose the chef's name on her website. However, she does note he was a 92 year-old legendary chef who offered to give her the secret truffle formula if she promised to do something with it.
A bit of mystery makes for a good story…and a good truffle, no?
The first truffle I selected was Carmelized Almond. It was rich and intense. Then I moved onto the Hazelnut, and it delivered on the promise of this classic combination, and more. Jim was right. Having nailed two classic combinations, I was ready to try the more adventurous flavors. I picked up what I think is a Champagne Pomegranate (sometimes it is hard to tell between the key/legend and the ones int he box…and after some fumbling, usually patience is lost and chocolate cravings take over!). It had a nice hint of sweetness and a bit of structure that I suspect comes from the Champagne. I must say, the Hazelnut so far is still my favorite.
What do to with the other 9 truffles? To set the record straight, I did share the first two truffles with Clint. I will be traveling to Austin, Salt Lake City and Atlanta this week, so there is a part of me that is thinking of taking these truffles with me. It would take the bite off of travel and didn't chocolatier Vaarre warn that these truffles, which contain no preservatives, must be consumed while fresh?