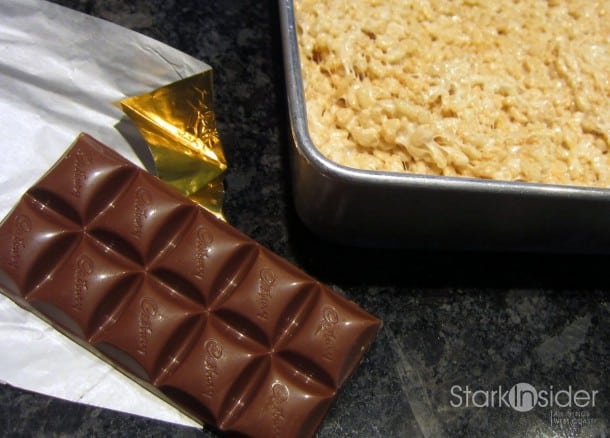 The scenic view through the kitchen window of snow gently drifting down this Christmas morning was inspiration for my "S'mores No More" Cadbury Caramilk rice crispy secrets.
S'mores are probably everyone's favorite childhood fire-side treat. What child, or adult, can resist gooey marshmallow and melted chocolate squeezed between two crunchy graham crackers. Curled up beside a warm campfire, with fingers all sticky, the comforting crackle of the wood logs… S'mores conjures up this little piece of childhood nostalgia.
Yet what happens when it gets too cold outside, when snow has chased away any desire to sit on a rock outside and toast marshmallows?
Well, you bring all the gooey goodness inside with my "S'mores No More" Cadbury Caramilk rice crispy secrets.
This recipe marries several iconic themes into a smorgasbord (no pun intended) of a secret treat.
Thematically, it captures the dominant tastes of marshmallow and chocolate of a S'more, but the S'more no more! Instead, the spirit is encased in a classic rice crispy recipe, the one off the back of a box of Kellogg's Rice Krispies. Finally, it playfully references the highly successful "Caramilk Secret" advertising campaign conceived by Gary Prouk which centered around the question of how the caramel gets into the center of a Caramilk chocolate bar. Here, the question to ask is, how does the Caramilk bar get in the middle of the rice crispy treats?
One bite of these "S'mores No More" Caramilk rice crispy secrets and you will crave "S'mores no more!"…at least until you have completely devoured the batch!
"S'mores No More" Caramilk Rice Crispy Secrets Recipe

Ingredients:

1/4 cup of unsalted butter, melted
40 large white fluffy marshmallows
1/2 teaspoon of vanilla extract
6 cups of rice crispy cereal
2 Cadbury Caramilk bars