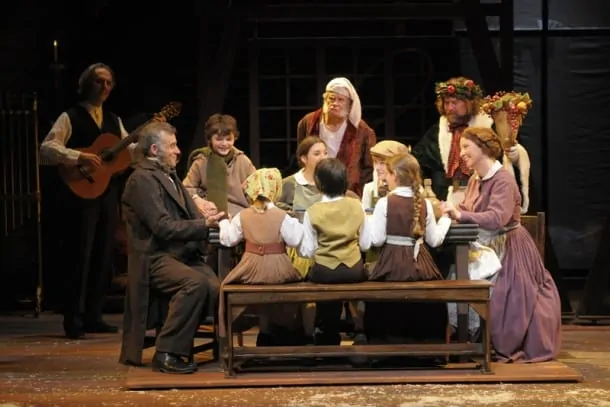 A Christmas Carol is part of our cultural DNA. Part of the reason it plays so strongly to our sense of nostalgia for a life never experienced is that Dickens was writing to revive Christmas traditions that he feared were lost. This ups the ante, with Dickens being Dickensian, before ere the word was coined.
Since most of us imbibed heavily on this tale in your youth (and watched our offspring do the same), it's easy to take a pass on the retelling of the story. This would be a pity since San Jose Rep's excellent version just opened. Regardless how well you think you know this material, this adaptation by Rick Lombardo is sure to uncover a few gems that escaped you. It sticks close to the language of the novella, but offers such exquisite staging that this over-told story takes on new life. This production drove me straight back to double check the reference that Marley visited Scrooge to atone for a life not lived on earth. The whole bit that Marley's spirit "was condemned to walk abroad his fellow-men" because "if that spirit goes not forth in life, it is condemned to do so after death" completely escaped me until last night.
Part of what raises this production a step beyond the normal holiday theatre fare is the set, the music, and the lighting. The story takes place within a stage-sized A-frame, which in turn, cradles a large floor-to-ceiling window upstage. This gives the story a subtle New England feel that takes the material beyond the Disneyfied Dickens kitsch that informs much of the Christmas season. By placing it in this slightly unusual set, the story takes on a depth and sweetness, that seems impossible in this umpteenth retelling.
Integration of music was exquisite. While piano, violin, percussion, guitar, recorder, accordian and other instruments remained on stage, this use was subtle and so well integrated into the storyline that they never seemed an after thought.
Eighteen actors shared roughly fifty roles, seamlessly cycling in and out of costume. Of particular note was Seth Margolies, who wasted nary a line or move, entrancing the audience as he bounded from the ever-ebullient Mr. Fezziwig, to the Ghost of Christmas Present to numerous other roles.
A Christmas Carol will be playing at the San Jose Rep until December 24th. Combined with a stroll through Christmas in the Park and the Rep's "family-pack" pricing, this show is a perfect treat for all the family.
A Christmas Carol

San Jose Rep

3.5 out 5 stars

Directed by Rick Lombardo
Through December 24th
[Photo: Kevin Berne]