Reading Robert Kelley's director's notes is always a pleasure – and his notes to this work are no exception. He asks why this story has such timeless allure, making the reader feel like they are in safe hands. Reading his lines, one feels he understands why this book mattered so much to so many girls. Unfortunately, that feeling ends shortly after the curtain rises.
Frances Hodgson Burnett followed a long line of Victorian novelists who romanticized the orphan. Like Dickens, Brönte, Gaskell, Thackery, and others who relied on the orphan to inject a little mystery  into their work, Burnett created  the orphans Mary and Colin. Mary was orphaned after the Indian cholera epidemic took her parents. Colin was orphaned after his mother died in childbirth. Although his father is alive, Victorians considered him an orphan (as they did all children with one parent) because they appreciated that children need two parents. Fictional orphans were seen both as plucky mites who chart their own way in the world, as well as suspect characters at odds with social norms.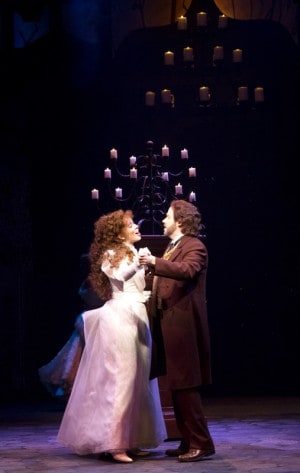 Nearly 100 years old, The Secret Garden continues to be a best seller among girls precisely because the orphaned protagonist is a free agent. Neither Mary or Collin has much to do with the adult world in which they find themselves.  Largely abandoned by the adults at Misselthwaite Manor, they thrive precisely because of that benign neglect. However, in Marsha Norman's take on this material, she adds an adult drama that takes up more than 50 percent of the story line, transforming a children's classic into a maudlin adult tale. Working on the conceit that Misselthwaite is haunted, she peoples it with characters who don't exist in The Secret Garden.  The story becomes so driven by the adult action that it's a rare moment that the adults are off the stage all together. One wonders what possessed Manor to take this script in this direction. Did the singular characters of Mary and Colin seem too fantastically unbelievable? Whatever the reason, her infusion of new material and new characters fails to honor the work – or audience expectations.
This deviation might have been less aggravating had the sound system been better balanced. Whenever more than one adult sang, the volume assaulted the listener's ears. Voices were poorly matched with each other, and words were often unclear.
That said, The Secret Garden did have much going for it, with respect to staging, set and color. The blast of energy and color that opened the play, captured the bedlam of Bombay during cholera epidemic. The silently sliding panels brought back the twisted hallways of Misselthwaite even recalled Tasha Tudor's paintings of the same. Adam Theodore Barry (Fakir) struck the right tone, leading the production forward. However, not surprisingly, the strength of the production came from Angelina Wahler, who played Mary Lennox. Angry, rude and obstinate, she embodies both the Victorian idea of a child outside of normal conventions – as well one capable of creating herself, free from social expectations.
TheatreWorks will return in January with The Pitman Painters, a story about six 1930's miners who take up painting. One looks forward to this west coast premiere written by the author of Billy Elliot.
The Secret Garden

TheatreWorks
Lucie Stern Theatre, Palo Alto

2.5 out of 5 stars (Ho-Hum)

Directed by Robert Kelley
Through December 31, 2011
Book & Lyrics by Marsha Norman
Music by Lucy Simon
Based on the novel by Frances Hodgson Burnett
[Photos: Mark Kitaoka]