What does it take to be a signal show for an entire generation – or two? 
The songs have to be catchy enough for a five-year-old to prattle in the car while mom is tearing up at red lights.
The script has to be British – but by a Brit transplant with Yankee roots.
The lighting has to be so effective that it doesn't look cheesy after 30 years.
The second act has to be stronger than the first.
It has to speak to the wisdom and fragility of age, while delivering the exuberance of youth.
The cast can't include human characters because we know we're smarter than them.
The peak moments have to be so majestically silly that they're completely transcendent.
And it's got to have spaceships.
I'm talking about CATS, which just opened at the San Jose Center for the Performing Arts.  This short run only lasts through January 1st which might just be a good thing because my wallet couldn't take going back again and again.
It's been a couple of years since CATS was performed at the Center of Performing Arts, and Broadway San Jose more than delivered on this gem. With stellar lighting, acting, singing and choreography, the cast and crew created a show that must be experienced to be believed.
The slight differences between this production and earlier ones added interest without betraying the integrity of the work. This was a sexier Rum Tum Tugger (Chris Stevens), and a more self-possessed Bustopher Jones (Christopher E. Sidoli).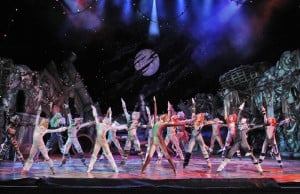 Even more critical than these individual performances was how splendidly the entire ensemble worked together, delivering dance numbers were tighter, more coordinated and more exuberant than I had remembered in previous productions. This was evident throughout the show, but most obvious during the Jellicle Ball scene, just before the Grizabella departs for the Heaviside Layer.
The only nits this reviewer has to pick are a few sound problems that dogged the first act. Feedback distorted, mics cut out, sound was altogether dropped for a long few seconds during the first rendition of "Memory." These problems completely disappeared during the second act.
My son astutely observed that the Heaviside Layer scene captured the essence of what theatre's all about. Indeed, this is why some of us return, again and again, to the stage. On the off chance you've forgotten how good theatre can be, CATS will certainly make you remember.
CATS

4.5 out of 5 stars (Right on the Money)

Broadway San Jose
San Jose Center for the Performing Arts

Original director – Trevor Nunn
Directer and Choreographer for the Tour – Richard Stafford

Based on "Old Possum's Book of Practical Cats" by T.S. Elliot

December 27th – January 1st