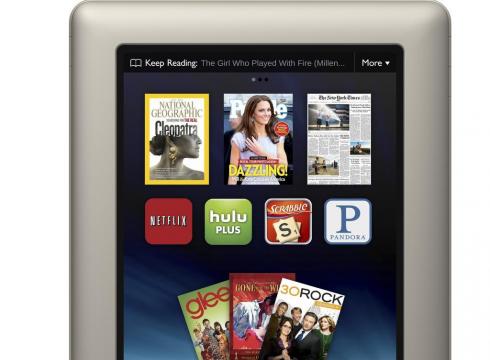 Sure, it will sell. But will the new Android-based Nook Tablet by Barnes and Noble sell. With the Amazon Fire (also Android) recently announced by Bezos, and hitting virtual shelves this month, and the iPad essentially owning the category, is there room for another player? And, more importantly, why would a buyer choose this tablet from Barnes & Noble instead of one from market-leading Amazon?
First the specs: $249, 7-inch display (1024×600), weighs 14.1 ounces, runs Android 2.3 (Gingerbread), 1GHz dual-core processor, 1GB of RAM, 16 GB storage and Wi-Fi (no 3G). The Nook Tablet will come preloaded with Netflix, Hulu Plus, Pandora, and other apps. And like the Fire it too will not have any on-board cameras. Launch date is Nov. 17.
CEO William Lynch, who was full of vim and vigor during the announcement, said, ""What we set out to do here was create the best portable 7-inch media tablet. It is an evolution of Nook Color and a revolution in the 7-inch media category."
He also pointed out that while the ebook market is relatively small with only about $1 billion sold out of  the $22 billion total market, he expects that to grow to $5 billion by 2015. No doubt, though smaller than the broader tablet category (iPad) this is is a fast growing niche market; 5.4 million units moved last quarter representing 167% Q/Q growth. Amazon  holds 51% of the e-reader market, with B&N at 21% (IDC).
There are a few problems with the Nook Tablet right out of the gate, and let's dismiss the fact that's it yet another me-too move in an attempt to survive in the wake of Amazon:
(1) The price is too high. At $249 it's 25% higher than the upcoming Fire. Why would anyone choose it over the offering from Amazon?
(2) Lack of differentiation. If there was a compelling, unique feature (Lynch referenced HD streaming as its killer move, but didn't follow up with specifics aside from mentions of Hulu Plus and Netflix) than the price premium might be justified. And I'm not convinced that consumers will choose it over Fire just because B&N sells more physical magazines (along with Walmart) in its stores than anybody else. Meanwhile Fire has Silk, the slick browser and caching technology that makes the web fly.
(3) Twice the storage, twice the RAM. Yes, but mainstream consumers don't make buying decisions based on specs. You might disagree with me here (and elsewhere), but here's the question most buyers will ask: Can I read books on it? Can I buy magazines and books for my children? Can I also run apps, surf the web occasionally? Yes, yes, yes? Ok, good. And price… uh-huh, right them I'll take a Fire please.
(4) No access to the Google App Store. Consumers love apps. This is a huge strike against the Nook Tablet.
Ultimately both the Fire and Nook Tablet are early versions of products that will look infinitely better in just 12 months. The current models lack cameras, are bulky, and are still priced too high. I believe the sweet spot for e-readers is $59-79. I'm convinced that's where they'll be, sooner than we think. And at that point, whether it's 2012 or 2013, we'll see e-readers everywhere–in schools, on the bus, in libraries even. Hopefully B&N will still be around to play the game.
Watch the video below and let me know what you think!
Video Tour of the Barnes & Noble Nook Tablet