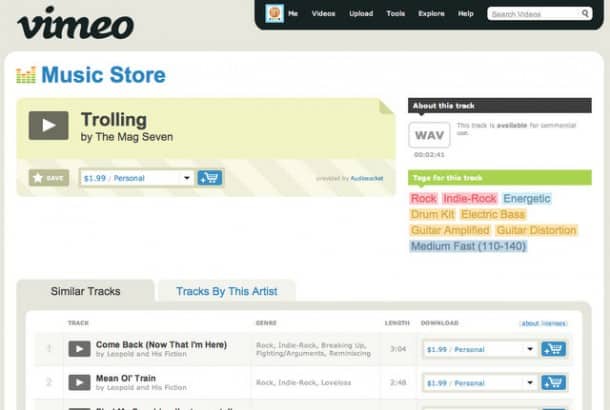 It's not iTunes, nor does it aspire to be. Instead, web video host Vimeo is targeting its new Music Store at filmmakers, producers and videographers looking to background music to their videos. The idea, according to an email this morning from the company, is to make it easy to find and buy a track from a library of over 45,000 songs.
Pricing is a la carte, with single tracks priced at $1.99 for personal use and $99 for commercial use. There are also a limited number of free songs licensed under creative commons.
Since I'm always on the look-out for tracks (I've licensed from premiumbeats.com in the past – watch one featuring their tracks I made here for the SJ Rep on Vimeo) we can use here on Stark Insider TV I gave Vimeo Music Store a quick spin.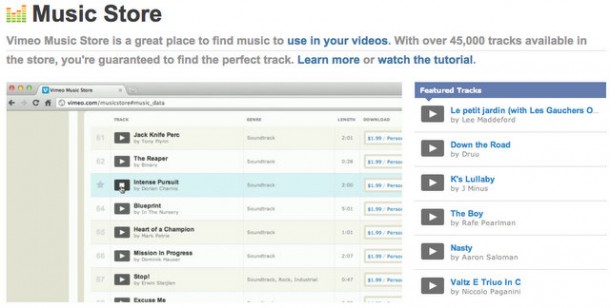 The interface design aesthetic is classic Vimeo – clean, easy-to-use, and pretty in a minimalist (think Google modernism) way. Previews are easy with a play button located below the title. I found some delays in streaming, but for the most part the tracks played within a few seconds.
Those on the hunt for a specific style of music will appreciate the search capability. It's quite good. You can do a typical free-form search, or what I found even more useful: use predefined tags to narrow down choices across a series of filters including genres, tempos, themes, moods, instrumentations.
Quality-wise I'm still exploring, and listening, but so far I'd give it an average rating. Premiumbeats.com, for example, seems to have much more polish in many of their tracks. If you like heapings of synth with a spa-like feel try "Child of Joy" under ambient. If you like pop, you're in luck as there's a large number of tracks under that genre, with many available free. Turn it to 11 with "Trolling" by The Mag Seven for some grit, and guitar heavy drama. Neither of them, though, will make it into our library, but I will continue to search for the ideal tracks. It's a convenient offering, and since we use Vimeo (in addition to YouTube) as a video host, it makes sense for us to add their music store to the others we surf when looking for some tune-age.