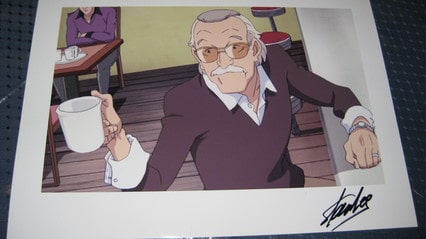 Film Festival season continues here in the San Francisco Bay Area. The Mill Valley Film Festival opens next week, and later this year film-goers will be able to mix wine, food and film (there are worse things) when the inaugural Napa Valley Film Festival takes flight. And if you're a fan of the documentary then you're not going to want to miss DocFest.
With over 60 films from around the world, the 10th edition of SF DocFest gives its audience two weeks of engaging non-fiction movies. Highlighting the festival is Dirty Pictures, Etienne Sauret's testament to Dr. Alexander "Sasha" Shulgin, and his quest to unlock the complexities of the human mind with psychedelic drugs. Closing Night brings With Great Power: The Stan Lee Story about the legendary creator of comic super heroes including Spider-Man, Iron Man, X-Men and many others.
The 10th SF DocFest runs Oct. 14 – 27 at the Roxie Theater, 3117 16th St. in San Francisco and Oct. 14-20 at the Shattuck Theatre, 2230 Shattuck Ave, in Berkeley.
Dirty Pictures by Etienne Sauret, coming directly from SXSW 2011 is a portrait of the Bay Area's own Dr. Alexander Shulgin, the rogue chemist/underground hero known as the "Godfather of Psychedelics." Shulgin has always famously used himself and his wife as guinea pigs in his own home lab. The film examines the impact of Dr. Shulgin's lifelong quest to unlock the complexities of the human mind. Targeted by some and revered by many, this genius scientist has synthesized and researched over 200 compounds, including his most famous—MDMA. Great scenes, from cutting-edge neuroscience facilities to Burning Man, illustrate the many sides of our great drug debate.
DocFest organizers have announced a "Centerpiece" slot that will feature Isabelle Lavigne and Stephane Thibaut's California Premiere of At Night, They Dance, a whirlwind of a film about a family of belly dancers making a living and getting into various scrapes in working-class Cairo. The unforgettable matriarch, Reda, tries to navigate an increasingly narrow road between artistic respectability and sexual disgrace, while holding together a brood of dancing girls as opinionated and independent as she is.
Stan Lee needs no introduction, having co-created over 500 legendary pop culture characters, including Spider-Man, Fantastic Four, X-Men, Iron Man, Thor, and The Hulk. From his uncertain beginnings to hyper-prolific comic creativity, and later, mega Hollywood success, Lee has become a public character in his own right. Welcome to Stan Lee's world: movie stars think he's the coolest, he's married to the love of his life, and to top it off, he still has the best job in the world. The 10/27 screening is followed by the superhero-themed Closing Night Party at CellSpace (2050 Bryant at 18th).
DocFest

October 14 – 27, 2011
Roxie Theater in San Francisco
Shattuck Cinemas in Berkeley
Docfest – Premieres

B.I.N. – BERLIN IN NOVEMBER

Victor Schefe, 93 min, Germany, World Premiere

If Casey Affleck ever decides to get all of his cool friends together and make a movie about Boston in February, it might look a little like this documentary. Going from interview to interview with some of Berlin's most creative citizens, Schefe, an actor, shows us the attractions of his beloved Berlin's dreariest month with an impish, infectious spirit.

78 DAYS: A TREE PLANTING DOCUMENTARY

Jason Nardella, 62 min, Canada

What happens in the northern wilderness when the loggers leave? "Reforestation." Which is tree planting, one wee tree at a time, a form of mentally and physically demanding piecework that attracts a certain kind of person: committed, motivated, and a little bit peculiar. In this brand-new documentary, filmmaker (and former planter) Nardella documents one such crew for one especially grueling season, 78 days in all.

The California Premieres are the Centerpiece film AT NIGHT, THEY DANCE (d. Isabelle Lavigne, Stephane Thibault), BEAVERBROOK (d. Matthew Callahan), DONOR UNKNOWN (d. Jerry Rothwell), ECSTASY OF ORDER: THE TETRIS MASTERS (d. Adam Cornelius), FIRST POSITION (d. Bess Kargman), GENERAL ORDERS NO. 9 (d. Robert Persons), GRAB (d. Billy Luther), PEEP CULTURE (d. Sally Blake), SCENES OF A CRIME (d. Grover Babcock), SCRAPPER (d. Stephen Wassmann), TALIYA.DATE.COM (d. Taliya Finkel), TELL YOUR FRIENDS! THE CONCERT FILM! (d. Victor Varnado), and UNLIKELY TREASURES (d. Tally Abecassis),

Of Local Interest
The 10th DocFest presents 3 features on Bay Area subjects. Read about the Opener DIRTY PICTURES above. Matthew Callahan's BEAVERBROOK tells the tale of the memorable Northern Cal camp, and Bess Kargman's FIRST POSITION features local aspirants Miko and Jules. DocFest also has SF natives Brian Lilla's PATAGONIA RISING and Joshua Atesh Litle's THE FURIOUS FORCE OF RHYMES.

BEAVERBROOK

Matthew Callahan, 68 min, US, California Premiere

Back in the glory days of the sleep-away camp, Beaverbrook was legendary, at least in the minds of thousands of deliriously sunburnt, blissfully mosquito-bitten, and occasionally hickeyed Beaverbods. There was all the usual campfire singing, mud-fights, and Indian-camp-building you'd expect, but it's that old summer-camp magic that Callahan successfully captures in this nostalgic ode to a disappearing childhood institution.

FIRST POSITION

Bess Kargman, 90 min, US, California Premiere

About 1 million kids take ballet. 99.9 percent of them will never make it into a professional company. What superhuman combination of talent, beauty, and toughness does it take to be in that .1%? The six young dancers in this brand-new documentary each have a chance at that dream, as they prepare for the worldwide competition that may make their careers: the Youth America Grand Prix.

PATAGONIA RISING

Brian Lilla, 89 min, Chile/US

Chile is on the verge of a monumental decision. Just as scientists are investigating major climate change in the Northern Patagonia Ice Field, five proposed hydroelectric dams could destroy two of the purest free-flowing watersheds in the world, and push a frontier culture even closer to extinction. Bringing those human voices to the forefront of the controversy, PATAGONIA RISING illuminates an alternative path forward.

THE FURIOUS FORCE OF RHYMES

Joshua Atesh Litle, 84 min, France, Germany, US,

Startling and provocative, with an uplifting message of hope and reconciliation, this hip hop road movie reveals how a single genre of music connects people as diverse as American blacks, East German skinheads, Israeli Jews, Palestinians, African feminists and French banlieusards. Alternately exuberant, moving and humorous, this lushly photographed film is a stirring chronicle of the combustible intersection between politics and art.

From Around the Globe
Ten countries are represented this year at the 10th Annual DocFest including France, Germany, Israel, South Africa, Italy, Australia and the UK spotlighting the range of this year's festival.

THE CREATORS

Laura Gamse, 81 min, South Africa/US

Step into the lives of six artists sculpting South Africa's future from the fragments of a tumultuous past. Born into separate areas of the formerly-segregated country, Faith47 (street art), Warongx (Afro-blues), Emile (hip-hop), Sweat.X (performance), Blaq Pearl (spoken word) and Mthetho (opera), have stark differences in their backgrounds and perspectives. But as THE CREATORS contends, they're a part of the same movement: to create a new life, and a new country, through art.

HOW TO START A REVOLUTION

Ruaridh Arrow, 87 min, UK

This first film from director Arrow is the remarkable untold story of Nobel Peace Prize nominee Gene Sharp, the world's leading expert on non-violent revolution. Gene's work gave a new generation of revolutionary leaders the weapons needed to overthrow dictators: his 198 steps to non-violent regime change have inspired uprisings in Serbia, Ukraine, Egypt, Syria, and across the globe, in an unstoppable wave of profound democratic change.

LEFT BY THE SHIP

Emma Rossi Landi, Alberto Vendemmiati, 79 min, Italy/US

It is estimated that 50,000 children of US Servicemen live in the Philippines today, unrecognized by the US Government. What is it like to be Amerasian in the Philippines, where everyone knows, just looking at you, that your mother was a bar girl and your father abandoned you the day his ship sailed? Robert, Charlene, JR, and Margarita struggle with this dubious birthright. Do they have a place in Filipino society? If not, will their fathers, if they can be found, claim them?

OIL CITY CONFIDENTIAL

Julien Temple, 104 min, UK

Here we have the story of Dr. Feelgood, four men in cheap suits who crashed out of Canvey Island in the early '70s, sandpapered the face of rock'n'roll, leaving all that came before a burnt-out ruin—four estuarine John-the-Baptists to Johnny Rotten's anti-Christ. Taking London by storm, they sped through Europe and conquered the UK with No 1 chart success, before imploding just as punk was born.

PEEP CULTURE

Sally Blake, 59 min, Canada, 2011, California Premiere

Why are we tripping over ourselves to get on reality TV, post intimate secrets online, and drop our drawers for amateur porn? Pop culture has become "peep" culture—but what does it mean and how is it changing us? PEEP CULTURE is an insightful romp into a world of internet and reality TV fame and fortune, where the "challenge" isn't to protect your private life, but how best to capitalize on it.

TALIYA.DATE.COM

Taliya Finkel, 54 min, Israel, 2011

It's hard to find a good date in Tel Aviv. Nevertheless, Taliya is online, looking. She goes on (really) bad dates, draws unflattering self-portraits, and argues with her gay roommate Oded about whether she's dieting. Then it's back online. DocFest '08 director Finkel (OVER MY DAD'S BODY) crafts a perfect blend of the tragic and comic in her search, not just for real love, but an acceptance of her own image and identity in a .jpeg world.

YOGAWOMAN

Kate Clere McIntyre, 84 min, Australia

Yoga was bought to the west from India by a lineage of male teachers. Now there's a generation of women who are leading the way. They're strong, they're inspiring, and they're radically changing people's lives. From the busy streets of Manhattan to the dusty slums of Kenya, YOGAWOMAN uncovers a global phenomenon that has changed the face of yoga forever.

Fresh American Stories Revealed
Filmmakers are again presenting fascinating images and voices from the limitless American store for the world to see and digest. The well will never go dry because America is a endless source of material driven by ambition and diversity and an unquenchable taste for the yet to be discovered.

WHERE SOLDIERS COME FROM

Heather Courtney, 91 min, US

Heather Courtney, DocFest '06 director of the fantastic LETTERS FROM THE OTHER SIDE, brings us another emotional masterpiece about a different kind of journey: childhood friends who, for lack of a better idea, enlist together and go off to war. From Michigan to Afghanistan and back again, Courtney documents a particularly American coming-of-age story with the kind of intimate access rarely seen in military interviews. Recently featured on NPR.

THE WOODMANS

Scott Willis, 82 min, US

THE WOODMANS chronicles a haunting and inspired family of artists as they share their unwavering aesthetic and expressionistic values even through ultimate tragedy. Late and lauded photographer Francesca Woodman eclipses her parent's prestige in the art world even after her untimely death. This, and other family dynamic twists provide an endless source of candid interviews that allow viewers to peek into the motives of these artistic minds.

TELL YOUR FRIENDS! THE CONCERT FILM!

Victor Varnado, 83 min, US

Straight out of SXSW, Liam McEneaney, creator of Tell Your Friends! hosts the film version of his smart comedy show. What works in indie comedy? Not what they're doing in Vegas, that's for sure. Alt-comedian stars Christian Finnegan (VH1's Best Week Ever), Leo Allen (Comedians Of Comedy, SNL), Kurt Braunohler and Kristen Schaal (The Daily Show), Rob Paravonian (Comedy Central), and Reggie Watts (Conan's Live Tour, SXSW) show off their transitions from bar basements to anti-mainstream entertainment.

ADVENTURES IN PLYMPTOONS!

Alexia Anastasio, 85 min, US

This new documentary about perennial SF IndieFest favorite Bill Plympton follows his path from a Portland childhood spent drawing indoors to a self-made career as an independent animator and cartoonist. Featuring interviews with Terry Gilliam, Ralph Bakshi, Will Vinton, and other animation luminaries, ADVENTURES IN PLYMPTOONS! is a remarkable portrait of a remarkable artist.

THE AFTER PARTY (THE LAST PARTY 3)

Michael Schiller, 64 min, US

When a cinematographer working on another documentary gets caught in a mass arrest, his footage becomes evidence in a landmark first-amendment case, uncovers a police spying ring, and prompts his own investigation into the weird world of domestic surveillance in this amazing film-within-a-film experience. With special appearances by Andre '3000' Benjamin, Barack Obama, The Bush Twins, Cornel West, Al Sharpton and Don King.

BACK TO THE GARDEN

Kevin Tomlinson, 70 min, US

In 1988, filmmaker Kevin Tomlinson interviewed a group of back-to-the-land hippies living off-grid and isolated from mainstream culture. In 2006, he found out what had become of their utopian plans and dreams. The result is a time-lapse narrative, told with stories of lots of freedom but little cash, unflinching political activism, and non-conforming tribal families…including the kids, who have to wonder if the "free love" was really free.

BEING ELMO: A PUPPETEER'S JOURNEY

Constance Marks, 80 min, US

This Doc has been winning awards left and right and might just make you cry your eyes out to boot! Elmo is an international icon, but few people know the man beneath the puppet, Kevin Clash. Narrated by Whoopi Goldberg, this documentary offers a behind-the-scenes look at Sesame Street and the Jim Henson Workshop. BEING ELMO is a reminder that embracing the mischievous monster inside us all can change the world!

BOB AND THE MONSTER

Keirda Bahruth, 89 min, US

This award-winning documentary follows indie-rock hero Bob Forrest from his addicted days on the drug-saturated LA rock scene to his transformation into one of the most influential and controversial drug counselors today. New (and often very funny) interviews from Courtney Love, Anthony Kiedis, Flea, John Frusciante, members of Jane's Addiction, Fishbone and Guns n' Roses add texture, but it's Bob's music that illuminates this unforgettable and inspirational story.

CIRCUS DREAMS

Signe Taylor, 80 min, US

CIRCUS DREAMS presents a group of sweet, funny and extremely bendy teenagers auditioning for Circus Smirkus, the only traveling youth circus in the United States, and follows them all the way through their exhilarating and exhausting 70-performance tour. CIRCUS DREAMS immerses viewers into the lives of these talented kids, capturing their intense work ethic, passion for performance, deep friendships and budding loves.

GRAB

Billy Luther, 60 min, US

A look at the little-documented Grab Day in the villages of the Laguna Pueblo tribe, who annually throw water and food from the rooftop to people standing below. A community-wide prayer of abundance, thanks, and renewal, Grab Day exists at the intersection of traditional Native and contemporary Western cultures. The visual pleasures of GRAB will stay with you long after your peek into this rare ceremony.

SCENES OF A CRIME

Grover Babcock, Blue Hadaegh, 88 min, US

At first, murder suspect Adrian Thomas denies harming his infant son, but eventually breaks down and confesses. Police video reveals the psychological dynamic between detectives and suspect during the 10-hour interrogation—including the lies, trickery and coercion that are all legally permitted. Detectives, prosecutors, jurors and the suspect himself offer conflicting accounts of exactly what happened, but it's the actual interrogation footage that's the backbone of this gripping documentary. Jury Award winner, Full Frame Film Festival

SCRAPPER

Stephen Wassmann, 88 min, US

Nearly every day, US Navy, Marine and NATO pilots drop hundreds of thousands of pounds of high explosive bombs on a 670-square mile no-man's-land just north of the Mexican frontier. Most would stay clear, but to the enterprising scrappers, fearless and chemically-motivated "freedom outlaws," it's a gold mine of scavenged military ordnance…if they don't blow themselves up first. Spirit Award winner, Brooklyn Film Fest

Woman Show their Power
Fourteen women present their feature-length visions at the 10th Annual SF DocFest, spanning subjects as diverse as the arts (AT NIGHT, THEY DANCE, d. Isabelle Lavigne and Stephane Thibaut and FIRST POSITION, d. Bess Kargman), the circus arts (CIRCUS DREAM, d. Signe Taylor) and military recruitment (WHERE SOLDIERS COME FROM, d. Heather Courtney, a festival favorite). Be sure to check these other fine titles directed or co-directed by women with strong voices and a distinct eye on the world. ADVENTURES IN PLYMPTOONS!, d. Alexia Anastasio; BEING ELMO: A PUPPETEER'S JOURNEY, d. Constance Marks; BOB AND THE MONSTER, d. Keirda Bahruth; THE CREATORS, d. Laura Gamse; THE GREENHORNS, d. Severine von Tscharner Fleming; LEFT BY THE SHIP, co-d. Emma Rossi Landi, Alberto Vendemmiati; PEEP CULTURE, d. Sally Blake; TALIYA.DATE.COM, d. Taliya Finkel; UNLIKELY TREASURES, d. Tally Abecassis; and, YOGAWOMAN,d. Kate Clere McIntyre.