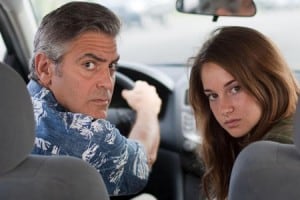 Films featuring some Hollywood heavyweights will be making their way to wine country this fall when the inaugural Napa Valley Film Festival kicks off. According to organizers, George Clooney, Judy Greer, Leonardo DiCaprio and Felicity Jones are a few of the stars whose films will be featured at the 5-day festival this November.

The Descendants (see trailer below), the opening night selection, stars Academy Award-winner George Clooney as a father who tries to reconnect with his daughters after his wife suffers a boating accident. The film also stars Shailene Woodley, Judy Greer and Matthew Lillard, who are expected to attend. Word is it's already generating significant Oscar buzz.
Sundance favorite Like Crazy will screen at the Napa Valley Opera House. The film stars Felicity Jones as a British student who is separated from her American boyfriend (Anton Yelchin) when she overstays her visa. Felicity Jones and director Drake Doremus are expected to attend.
J. Edgar, directed by the legendary Clint Eastwood, stars Leonardo DiCaprio as the first director of the FBI and the secrets he hid behind closed doors.
Also announced were the three juries.
Narrative Features: John Sloss (Cinetic Media), Keith Addis (Industry Entertainment) Peter Belsito (Newsreel), Kirk Honeycutt (Hollywood Reporter), Rob Morrow, (actor, "Northern Exposure/The Bucket List") and Claudia Puig (USA Today).
Documentary: Amy Dotson (Independent Filmmaker Project), Pat Saperstein (Variety) and Lisa Truitt (National Geographic Films).
Shorts: Rob Minkoff (director), Scott Wolf (actor, "Party of Five"), Freddy Rodriguez (actor, "Bottle Shock").
Trailer: The Descendants