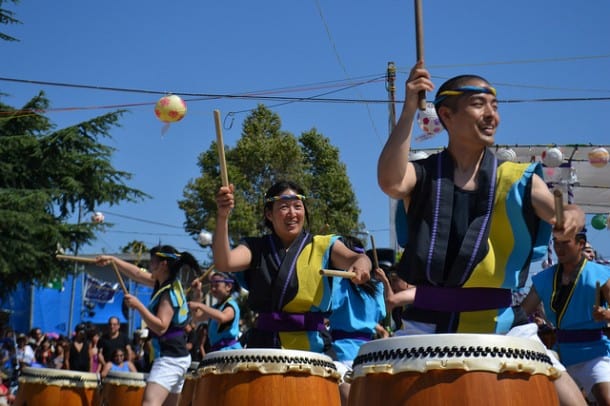 The nosebleed seats up in the balcony are far from the ideal place to evaluate any taiko performance. It's rather like going to a rock concert with the volume turned down. If you can't feel this music echo in you so that you are overcome by the pulsating beat, you're missing the heart of the taiko experience. I'm not sure whether it was my seats or the acoustics of the Heritage Theatre, but from the balcony, the sound of the drums was eaten up by the space.  This was unfortunate because San Jose Taiko has so much going for them.
Taiko – Japanese for drum – has become more and more common over the past twenty years.
Whereas in the past you might have check out the Mountain View or San Jose Obon Odori or festival in the summer, taiko has become relatively mainstream. This increased exposure brings a more critical way to look at taiko. Evaluating a taiko performance means paying attention to the synchronicity of the drummers, watching and listening for the layering of different rhythms, paying attention to how the program is designed, and how easily it is to be taken up by the hypnotic taiko spirit.
From where I sat, San Jose Taiko delivered on all of these, but the last. Their program design was particularly thoughtful, alternating between different types of percussive sounds, and the layering of rhythms was complex enough to be particularly interesting.
In addition to drumming, the experience of San Jose Taiko includes so much more. This group integrates theatrical elements, tightly coordinated dance moves, sports whistles, flutes, and these purple and silver Japanese pom poms that look all the world like Dr. Seuss's loraxes. While maintaining the tight integrity of a taiko performance, the group included segments that felt like a demented taiko version of a half-time show with whistle and another than could pass for commedia dell'arte taiko. Their good humor was infectious.
It wasn't until the end of the show when the group moved into the lobby that I appreciated just how good these guys were.
The rhythm starts to inhabit your body, causing a cessation of critical ability. That few moments in the lobby made me realize how devastating good these guys could be, were it not for the acoustical deficit.  Next time better seats – or a better venue.
Video: San Jose Taiko
[Photo: Courtesy of San Jose Taiko]