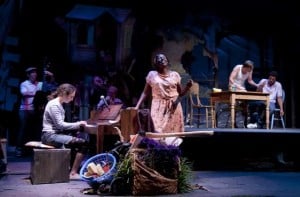 Recent reviews suggest there's a lot of self-indulgent theatre that tries to tap into an emotional vein, but leaves the audience feeling manipulated by emotional bombast. Clementine in the Lower 9 is decidedly not in this category. This play succeeds where others failed, as it packs such an overwhelming emotional wallop that when the houselights went up at intermission, the audience was oddly subdued as it filed out, each person a little overwhelmed, forced momentarily into their own thoughts.
 Clementine worked on so many levels that it's worth enumerating them: an excellent script that was so well paced that the second act was even better than the first, an inspired cast, excellent directorial decisions (such as subtle split stage actions), an imaginative set, subtle and understated lighting design, and an on-stage jazz band perfectly integrated into the performance. Had any of these elements been lacking, I suspect the weakness would have been immediately apparent in this ambitious undertaking.
Dietz's play set in the post-Katrina 9th Ward speaks directly to the lies we tell ourselves.  All the enthusiastic palaver about rebuilding and finding closure is as flimsy as the safety net that wasn't there during the storm's aftermath. Some losses are never healed.  Paradoxically, our limited ability to recognize that truth is essential to moving forward. Dietz's use of the Agamemnon plot to frame the story works so well because his material goes far beyond the 9th Ward. Dietz speaks of this in an interview with Vickie Rozell, resident dramaturg at TheatreWorks, saying "the ancient Greek dramatists have an amazing ability to write about a big social problem – like war, famine, one's responsibility to society—but they always had the ability to couch that larger issue within the story of a single family. And so they were able to keep it very big and very human. It could be about gods and goddesses and larger than life things, but it could also be, as is the case in Agamemnon, a woman saying to her husband: "How could you do that to our family?" Dietz too, keeps it very big and very human, which allows his material to escape being another Katrina horror story.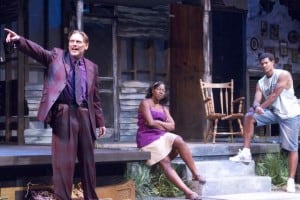 Set designer J.B. Wilson created a world of contrasting textures. On one hand, the flotsam of the storm created a seemingly impenetrable wall, incorporating a full size car, telephone pole, child's playhouse and bicycles mixed in together with other equally random wreckage. Situated in the middle of this is a fragile house, light pouring through missing lathing, wallboard and siding. The lightness creates pathways through the house that the cast traverses easily. The layering of missing siding keeps things seen and unseen, paralleling what the characters know and don't know about each other. Off on stage right, the jazz band comes in and out of focus, but never totally gone.
Much has been made of the presence of these musicians, mostly because they are so good, functioning like a Greek chorus should. Laiona Michelle (Clementine) and Kenny Brawner (Chorus) were made to perform together. This show would be worth seeing just for their musical performance.
Clementine in the Lower 9 is worth going out of your way to see. It will be running through October 30th at the Mountain View Center for Performing Arts.
Clementine in the Lower 9

By Dan Dietz

4 out of 5 stars

World Premiere
TheatreWorks
Mountain View Center for the Performing Arts
Music by Justin Ellington
Directed by Leah C. Gardiner
October 5—October 30, 2011
[Photos: Tracy Martin, Mark Kitaoka]