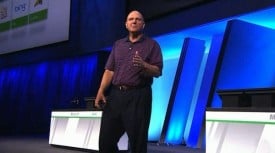 Man, does this guy sweat or what?! But, you know what, maybe it's time to give Steve Ballmer a little bit of credit – just an itsy-bitsy for starters, shall we?
Sure, he doesn't have the mad genius of a Steve Jobs. Or the playboy charisma of an everyday Oracle like Larry Ellison. And he sure as heck doesn't win when it comes to the age game (ahem: Mark Zuckerberg, and, even by CEO standards, Larry Page). But Ballmer has got this: perseverance. In spades. I mean here's a company that should be dead several times over (Vista), and yet keeps finding new ways to thrive against the odds (XBOX360). There's a mass grave for companies — Nortel, HP, Yahoo?, RIM? — that have died or are dying a slow, painful death in an attempt to adapt to this new world of hyper, social tech.
So, maybe it didn't come as a surprise when business casual Steve made a surprise in-person appearance at BUILD, the Windows 8 developer conference opening today in Anaheim. I might — might — even be able to forgive his lackluster showing at CES in January (we watched. and waited. tablets? show me the tablets?!) if even half of this great re-imaging of 2011 comes to fruition.
What does a new MSFT look like? Here are the 7 main product areas of focus he laid out:
— Windows Phone
— PCs and tablets
— XBOX (entertainment)
— Windows Azure platform
— Office and Office 365
— Bing (Search)
— Dynamics (ERP)
He expects 350 million Win devices to be sold this year, and has indicated the company has "doubled down" on the cloud.
Given Microsoft's huge built-in install base, it's hard to tell if numbers like 500,000 downloads (of Win 8 preview) are impressive, or merely an indication of a roadside curiosity.
Developers will no doubt be marching to the beat of a financial drum. If you're mobile, that sounds a lot like iOS or Android. And if you're all about the social then it sounds like Facebook, Twitter, possibly even Google+. However, if you're about gaming or corporate computing, then Redmond might get more than just a bit of programming attention.
Will the new Microsoft work? Too early to tell — and it still looks a lot like the Microsoft from last month (and from CES for that matter). But if we're scoring the guy on pure unadulterated resilience then he likely deserves some props. If you're an investor (what, only a 19% dividend?!), you might have a different perspective on the answer.