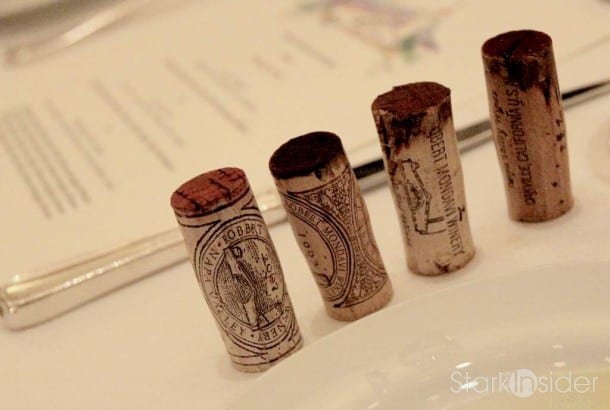 Seeking the ultimate Napa experience on your next escape to wine country? The "Four Decades" Tasting and Dinner at Robert Mondavi Winery is an experience that would make any getaway unforgettable.
If your weekend adventures in Napa are anything like mine, you can probably be found visiting a couple of tasting rooms to sample the latest vintages before wrapping it up with dinner at a restaurant or a picnic with goodies from Oakville Grocery. It's a great way to discover wines not found online or at retail outlets as well as learn about the source of the great wines.
However, most tastings at wineries will feature the current vintages and sometimes, a few library wines from random years. For those that want to truly experience the history of Napa wine making, the "Four Decades" Tasting and Dinner at the historic Napa Winery is a top contender.
I was fortunate to be invited on this immersion into Napa's wine heritage with the ultimate wine and food pairing dinner. Four decades of wines were coupled with resident Executive Chef Jeff Mosher's culinary creations. It was a surreal experience to taste a vertical of Mondavi's Cabernet Sauvignon Reserve that spanned four decades from the 1970's to the 2000's.
At the start of each course, a passage would be read from Robert Mondavi's autobiography, "Harvest of Joy." It was clear that even though Mondavi Winery is now part of the Constellation portfolio of brands, the influence of Mondavi is still strong at the winery he founded.
Luck would have it that on such an evening, I would also share a table with Genevieve Janssens, Director of Winemaking for Robert Mondavi Winery, who was also named Wine Enthusiast's 2010 Winemaker of the Year.
The evening was magical and most memorable. You can experience the "Four Decades" Tasting and Dinner as well. Just make sure to reserve in advance.