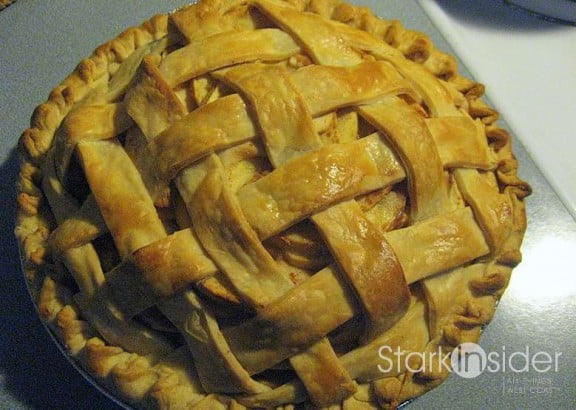 Is it a coincidence that both autumn and apple pie begin with an "A"?
Okay, I am guilty for seeking any reason to break out my shiny, red Emile Henry pie dish to bake my "Easy as Pie" apple pie.
This past weekend, I decided to get a little creative and throw in a layer of pears as well after a neighbor was nice enough to bring over a basket of them from the pear tree in his backyard. The pears were sweeter than the tart Granny Smiths I usually use and added a burst of sweetness and an additional layer of interest to the pie.
Experiment with different fruits and the "Easy as Pie" apple pie recipe. The real secret of this recipe is to use really fresh, ripe fruit and keep the added sugar to the bare minimum. This makes sure the fruit is the star of the show.
The fall season and the start of Halloween decorations is also making me dream up a cupcake filled with pumpkin pie filling and a cream cheese icing. Maybe even a sprinkling of toasted pumpkin seeds. If I perfect such a recipe, I'll be sure to share.
Tip:

Busy? Here's how to peel apples quickly

If you want in on a little secret, here's how I peel apples so quickly. Not to mention, it's kind of fun.

1. How NOT to do it:

2. That's better: