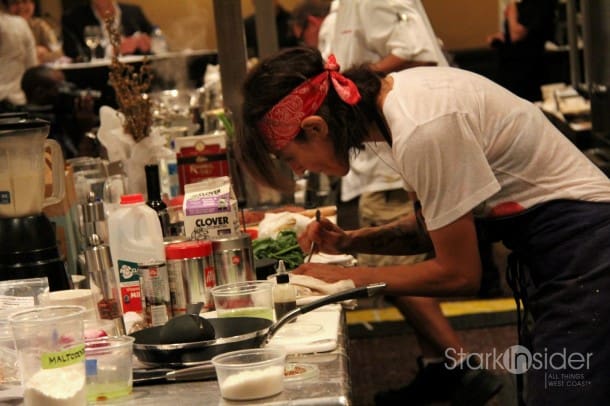 Star chefs came out enforce for SF Chefs 2011 —  a week-long food, wine and spirits festival  — and Stark Insider TV was there to capture a battle royale.
It was Crenn (Atelier Crenn) and Jackson (Lafitte) versus Cosentino (Incanto) and Falkner (Citizen Cake, Orson) right, smack dab in the heart of Union Square. The secret ingredient? Well, you'll have to watch this video to find out, in the series of highlights and "post-game" interviews with some of San Francisco's finest culinary talent.
The nitrogen went down, down, down; the flames went higher.
In total, $25,000 was raised to help local charities Golden Gate Restaurant Association and Meals on Wheels.
A lucky audience witnessed the two teams go head-to-head in a competition that included kitchen drama that has made shows such as "Iron Chef" so popular across the country.
"Eye on the Bay" host and KCBS Foodie Chap Liam Mayclem emceed the culinary battle, and San Francisco Chronicle's Miriam Morgan, Sunset magazine's Margo True, Parade's Fran Carpentier and Esquire's Christopher Mariani judged and selected the winners.
And Loni was on a mission to dig for every little foodie nugget:
How does Chef Chris Cosentino work his menus, and will the dish seen in this video make it to Incanto?
Kitchen essential: What is the one thing Chef Elizabeth Faulkner can't live without?
And what does Chef Russell Jackson think of Cosentino's work… or does he even get a chance to taste the competition?
Don't miss the talk of the town: Cosentino's eggs poached in bacon-coffee stock with coffee gélee, potatoes and celery, and Falkner's coffee ice cream sundae with bananas foster and cocoa nibs.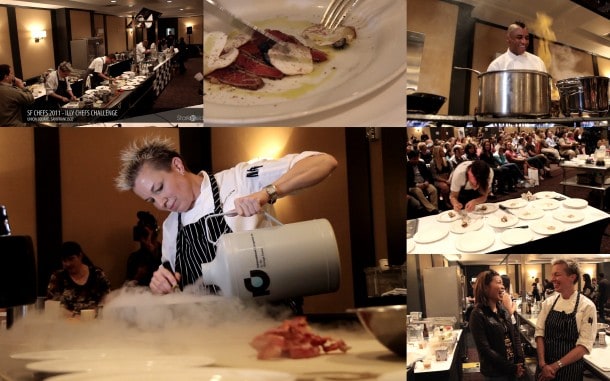 Contributing: Clinton Stark, and Loni Kao Stark in San Francisco.