For more photos of SF Chefs, and a behind-the-scenes video (coming Sunday) including interviews and crazy flames, wild nitrogen, spikey hair, check out Stark Insider on Facebook. Hope to see you there!

Ever wondered what an episode of Iron Chef would be like if television manufacturers spent more time developing Smell-O-Vision than 3D technology? Yesterday's Illy Chef's Challenge at SF Chefs 2011 gave a room full of die-hard foodies a first-hand experience of such a future. Union Square: the star chefs have landed.
As aromas of seared foie gras and Bananas Foster intertwined with Illy coffee floated across the audience, San Francisco star chefs Chris Cosentino ("Chefs vs. City," Incanto) and Elizabeth Falkner ("Top Chef Masters," Citizen Cake, Orson) battled it out against Dominique Crenn ("Next Iron Chef," Atelier Crenn) and Russell Jackson (a.k.a "The Dissident Chef," Lafitte) for the title of "top chef". The grand prize: $20,000 for the winning team's charity of choice and $5,000 for the runner-up.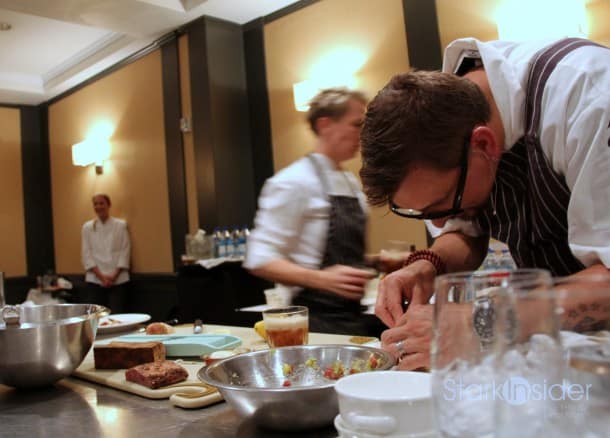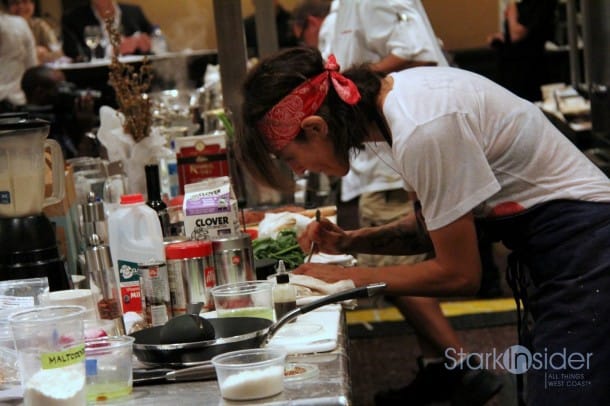 After a lengthy battle, the judges — San Francisco Chronicle's Miriam Morgan, Sunset magazine's Margo True, Parade's Fran Carpentier and Esquire's Christopher Mariani — had the challenging  task of selecting a winner.
I would have felt sorry for them if it weren't for the fact they were the few people that actually got to taste the food. The tantalizing descriptions and rich aromas at this point had teased my taste buds with much anticipation, yet little satisfaction.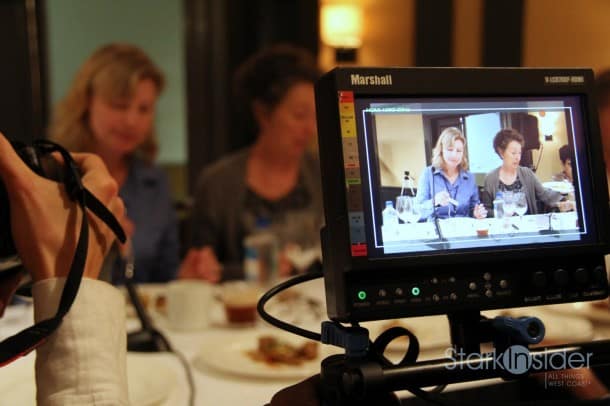 Miriam Morgan delivered the verdict, but not before disclosing that it was a close battle. The winners of the Illy Chef's Challenge? Team Cosentino-Falkner. Ultimately, everyone won. $20,000 was donated to Meals on Wheels of San Francisco which will provide 5,000 meals to seniors in the area and $5,000 to the Golden Gate Restaurant Association Scholarship Foundation.
Judge favorites included Crenn's frozen foie gras, Cosentino's eggs poached in bacon-coffee stock with coffee gélee, Falkner's coffee ice cream sundae with bananas foster and cocoa nibs, and Jackson's booze, tobacco and fire cocktail.
With the battle over and two great charities benefiting from the challenge, only one question remained…
What did the coffee creations actually taste like?
Unlike the judges on the television series Iron Chef, these judges were tight-lipped about what they thought of each dish. I am not sure why. At one point, the audience even got a little testy, collectively shouting, "Comments!" when the judges wanted to just give the final verdict.
As fortune would have it, just as I was approaching Falkner to get a few post-victory sound bites, she whipped out a stainless steel bowl of the coffee ice cream she made. Alas, I got a taste of the coffee ice cream. For those that are curious about the creations from this battle, almost all of them are at each chef's respective restaurants, sans coffee.
Don't miss out!

More photos, videos and coverage on the Stark Insider Facebook page. Find out why we're "Twice as fun… but only Half as smart."