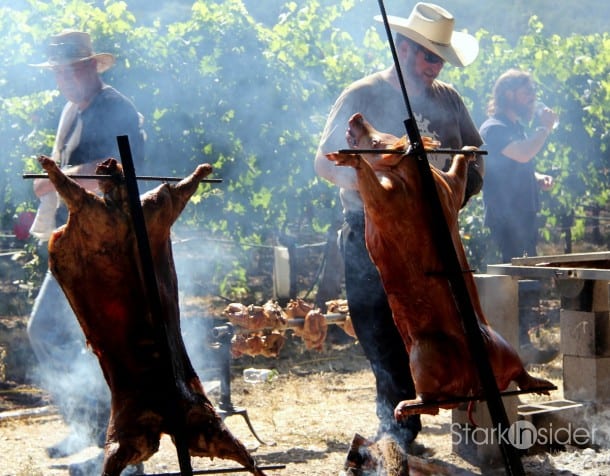 Calling consuming offal (the practice of eating all parts of the animal) a trend is a bit of a misnomer for anyone who has sat at a Chinese Dim Sum table, faced with the prospect of eating chicken feet or noshing on some nicely simmered stomach lining.
I grew up in a family that would joke about who would eat the duck's butt or fight for the duck brains during a multi-course Peking duck feast. I also understood at a very young age that this was not fully embraced by Canadians or Americans. When a family member would invite a non-Chinese guest to dinner, there would be a form of mild hazing where the unsuspecting person would get a butt, head, or foot placed on their plate amongst giggles from the rest of the family. I must admit, it was entertaining.
So if eating offal is a trend, it is certainly the American premiere in a much longer world-wide engagement.
What I do think is unique is its tight association with a couple of other food trends: eating green, eating local and returning to our roots.
Cochon Heritage Fire in Napa Valley, the most recent event in Cochon 555's repertory of activities spanning New York to San Francisco, provided carnivore fans a venue to explore heritage animal breeds. The experience ranged from exhibitions of whole animal fire roasting, the art of butchery, to tastings including the final product – everything from sausages to sandwiches.
As I meandered around Charles Krug Winery, the choice venue for this festival of meat, I made a couple of observations.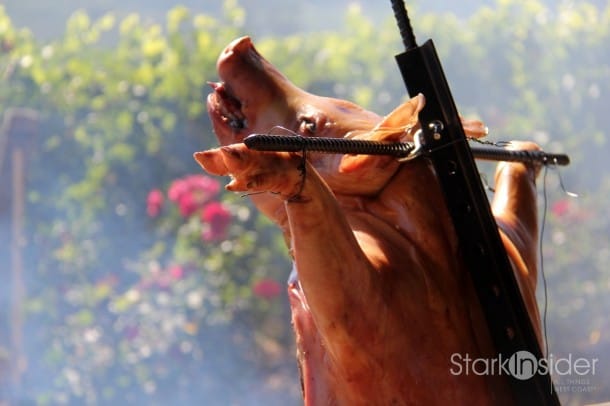 1. Whole animal cooking is impressive and scary
One of the aspects of American offal eating is to not only to eat the whole pig (not all in one sitting), but also eating local, which means knowing your source and the face of the animal you are able to eat. The whole animal cooking display was impressive at the Cochon Heritage Fire. There were over 20 animals tied and slow roasting by the multiple fires that lined the vineyards of Charles Krug with the majestic Culinary Institute of American (CIA) as the backdrop. I walked around and looked each animal in the eye, viscerally connecting the culinary creations just a few yards away with its source. Standing so close to the fire, you realize that you are simply flesh as well and could easily cook if not careful; advice that was given by several of the chefs and students of the CIA.
2. Whole animal cooking is best done slowly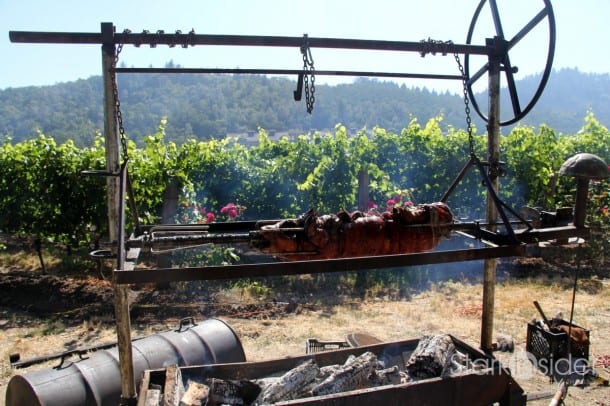 Chefs started cooking many of the animals at 10:30 am the morning of the event. The pigs did not start coming off the racks until about 4 pm. When cooking a whole animal it is important that it's done slowly to seal in the flavor and juice.
For the rotisserie style cooking of entire pigs different parts of the pig were cut and placed in other parts of the body in order to allow for more uniform cooking of the animal. It's an age old problem faced by those that have tried to bbq shish kabob and found the shrimp cooking faster than the beef or green pepper, urgh. Also, the use of some technology even in this "primitive" form of cooking helps. A powered motor ensured the pig rotated at a constant, even pace for the several hours of cooking.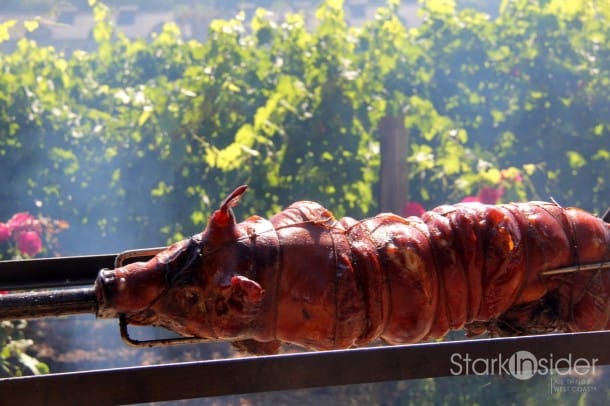 3. Butchery is truly an art form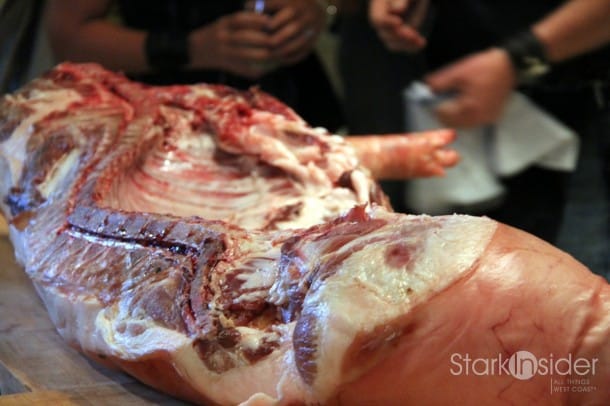 The only time in my childhood I saw meat being cut up was at a grocery store and a lot of it involved either a spinning blade or a cleaver. The butchery demonstration proved that cutting up an animal can be quite an art form. Upstairs at Charles Krug, Joshua Applestone & Dave The Butcher showcased the surgical precision and mastery needed to deconstruct an entire animal so that all its parts can all be thoroughly enjoyed.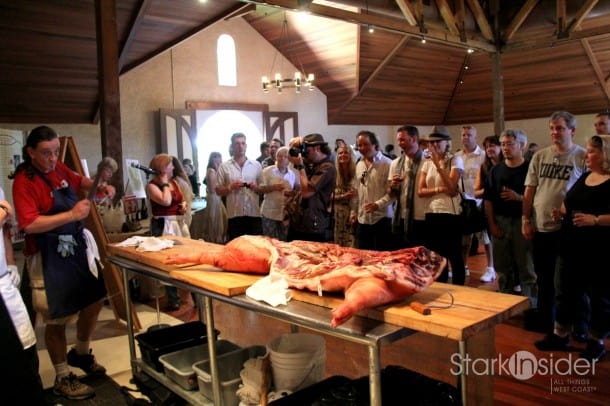 4. Brains, necks and all
I took an informal survey of chefs at the event and the most popular part of the animal body surprising was the neck. Chefs considered it to be one of the most flavorful parts of the animal. Having eaten duck necks, I could see how gnawing on a neck and sucking out its juices would be très délicieux! Chef Robert Mendez's favorite part is the brains. Others chose the diplomatic answer: they love it all. Yes, I love all my children too.
Get a first hand look at my survey here: Stark Insider TV, Cochon Heritage Fire (Napa).

5. Give me animal fat sizzling on freshly baked bread.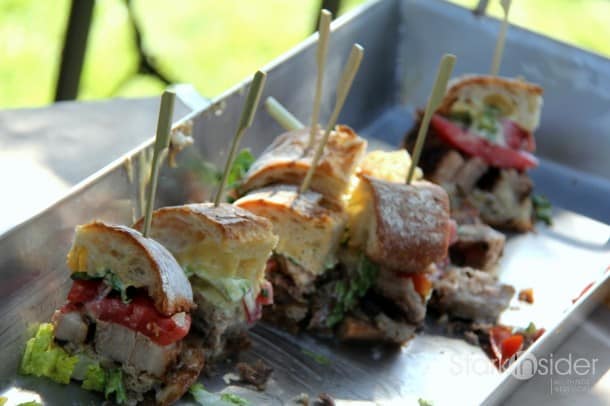 Okay, here is the surprise. I knew I loved pork belly and flavorful sausages. No revelations here and I will not waste precious moments to gush about these. If you've tasted these treats, you will know what I am talking about. However, the big surprise of the event is how much I loved animal fat on toasted, freshly baked bread. Mark Dommen's One Market BLT was to die for and, surprisingly, the part of the sandwich I most coveted was the part where the bread met the bacon and pork belly. The bread was slightly toasted and had soaked up some of the animal fat. Oh heaven!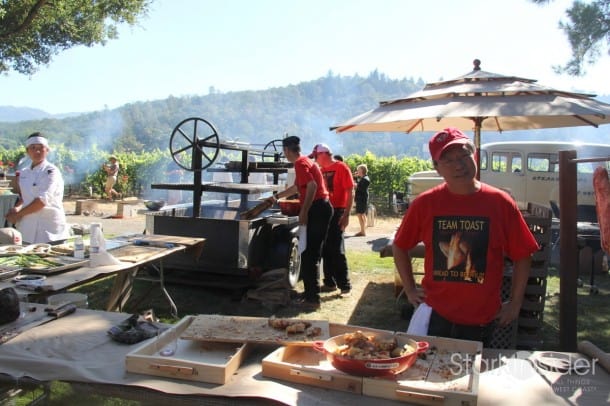 I knew this was not an anomaly since Peter L. Jacobsen's Primal Team Toast was so sinfully delicious as well and based on the same killer combination of animal fat and toast. I do think there could be trend for butter tasting akin to olive oil and balsamic vinegar tastings.
Primal Team Toast Recipe

By Chef/author: Peter L. Jacobsen, Team Toast

pgjacobs@pacbell.net

Primitive, open fire roasted toast, with a Slater made of a caramelized onion, red pepper and rosemary infused butter-olive oil mixture. Perfect for carnivores, herbivores and, certainly, perfect for the ubiquitous opportuivores, who show up at a barbeque.

Primal Slather

2 medium size onions
2 large red sweet peppers, seeds removed
½ cup of good olive oil
½ lb (2 sticks) of salted butter
½ cup, (4 ozs) of a mild blue cheese
¾ cup, (4 ozs) of a good fresh parmesan cheese, grated
1/8 cup, (1 oz) chopped fresh rosemary

Recipe Directions for the Primal Slather:

Chop peppers and onions medium fine (pieces from 1/3 to ½ inch square)

Sauté peppers in a small amount of olive oil, until they are soft, even just starting to brown in spots

Add onions and continue to sauté over low heat until they clarify and then just a bit longer until they just start to brown. (sauté onions slowly so that sugars are developed and it does not burn in any area. Better to have not cooked enough, than to over cook.)

Add finely chopped rosemary and sauté over low heat for about 2 more minutes so that herbs have come up to temperature and had a bit of time to release their oils.

No More Cooking for the rest of the Slather creation, Just Melting:

Add in the butter and heat until just melted, should not be bubbling, just melted.

Break the blue cheese into course crumbles and add to the mixture and heat until just softened and beginning to melt, should not be bubbling, just melting.

Take off the stove and add in the rest of the olive oil.

The Primal Slather is Done!

Keep the mixture warm to hot, over the fire, but not bubbling, while you are making the toast.

Primal Toast

Hunt down a nice large flat crusty loaf of bread like Chappata or some other flatter style bread.(The best eating size for these creatures is about 14-16 inches long, 5-7 inches wide and about 3-4 inches thick) The best hunting is in your local bakery or in the fresh breads section of your favorite grocery store.

Filet the whole loaf of bread flat lengthwise so that the whole loaf is laid open revealing the soft tender inside of the bread loaf. Put each half, soft tender side down, over a medium to hot wood coals. (not a, very hot fire, because the bread will burn before it toasts)

Toast the soft side until it is brown and crunchy, maybe even a bit overbrown to slightly charred in locations.

Flip the toast over so crust side is down and the newly toasted side us up.

Sprinkle a light layer of parmesan cheese on the warm toast.

Brush or ladle the Primal Slather liberally over the toast. You should gather the Slather from the bottom of the pot, to insure you get a lot of cheese, onions and peppers to add flavor and color to the toast. The Slater should be spread out to all the edges of the toast. Touch the toast firmly, but lightly, with the brush or ladle to insure that the Slather soaks down and into the toasty little valleys and holes in the bread. The bread should be soaked with Slather oil, but still have a crunchy feel on the outside with a soft chewy feel on the inside.

You can leave the bread on the fire a bit longer until you are sure it is toasted crispy on the crust side. You may even see some of the Slather bubbling in the toasty little valleys in the bread.

Take it off the fire and put it on the cutting board

Sprinkle another light layer of parmesan cheese over the whole slathered top.

Cut into slices about 1 inch wide and then cut those in half, so you have toasty bits of warm bread covered with warm oil, onions, peppers and cheese, about 1 in wide and 3-4 inches long. Small is good; that way people keep coming back for more.

Recipe is for 2 large loafs of bread, split open. Feeds about 8 hungry people as long as you have other stuff to eat, otherwise better double the recipe. Leftovers are good as well, warmed up in the oven.