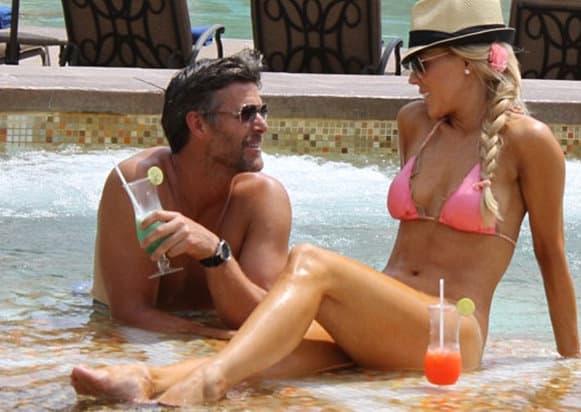 I don't normally follow any of Bravo's Real Housewives series. Admittedly, if they ever created the Real Housewives of San Francisco … I may sneak a peak or two.
However, today one of the Orange County Housewives, Gretchen Rossi caught my attention when it was reported that she and her beau Slade Smiley (I am really wondering if this is a stage name), jetted off to Loreto, Baja California Sur in Mexico for a relaxing getaway.
Loreto is a place near and dear to my heart, having fallen in love with in several years ago and ended up building our vacation home there, fondly named Casa del Lagarto Azul (aka "House of the Blue Lizard").
Gretchen and Slade stayed in the Presidential Suite at the newly-opened Villa del Palmar. From the photos I've seen, it seems they spent all of their time at the resort which is a bit of a drive down a dirt road a bit south of the town of Loreto, past a guarded gate.
If you do go visit Loreto, part of the charm is the little town of Loreto, so I do recommend spend some time outside of the resort exploring some of my favorite places such as the local ice cream parlor, bakery and restaurants. (Stark Insider Guide to Loreto)
A point of clarification related to other articles reporting on this getaway: although I love the references to "Isles of Loreto" and "Islands of Loreto", Loreto is actually on the Baja peninsula (a piece of land with water on 3 sides) and not a cluster of islands (pieces of land surrounded by water on all 4 sides). There are beautiful islands and a designated marine park of protected sea life in the Sea of Cortez close to Loreto, but Loreto itself is a seaside town on the Baja peninsula.
This is merely a point of technicality. When you are in Loreto, with the beautiful Sea of Cortez spanning the horizon, blue and beautiful, none of this, including what happened on the latest episode of Real Housewives, matters.
Hat tip: Thanks J. Fulanos
[Daily Mail Online: Real Housewives star Gretchen Rossi swaps the shores of Orange County for Mexico on romantic getaway]