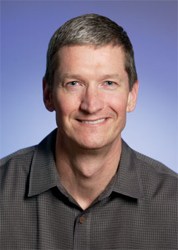 The Steve Jobs era has come to an end today. Likely, Tim Cook will be named his successor, if the board chooses to follow Jobs' recommendation.
"I have always said if there ever came a day when I could no longer meet my duties and expectations as Apple's CEO, I would be the first to let you know. Unfortunately, that day has come," Jobs wrote in his resignation letter to the board.
Tim Cook who ran the company when Jobs was on medical leave, was responsible for sales, and operations, and was widely seen as the favorite to assume the top slot.
Jobs will not be completely out of the picture, however. As Chairman, he will still run the board and have strategic oversight. How exactly that plays out remains to be seen. The head of the board has a wide variety of definitions and levels of involvement across the industry, with some having more power and influence than others.
"Steve's extraordinary vision and leadership saved Apple and guided it to its position as the world's most innovative and valuable technology company," said Art Levinson, Chairman of Genentech, on behalf of Apple's Board.
"Steve has made countless contributions to Apple's success, and he has attracted and inspired Apple's immensely creative employees and world class executive team. In his new role as Chairman of the Board, Steve will continue to serve Apple with his unique insights, creativity and inspiration."
First a shakeup at HP and now a change at the top of Apple, the world's most valuable tech company. Interesting week!