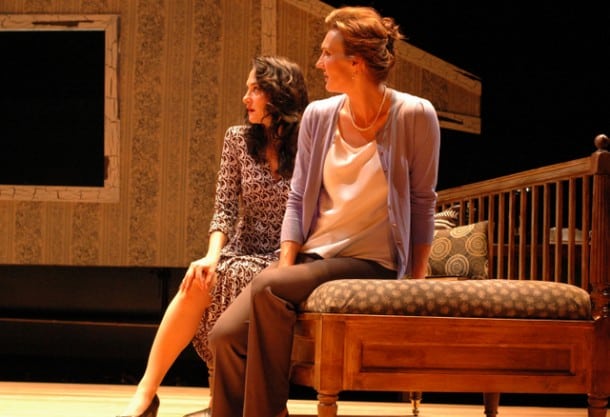 The separation between the three characters in Stanford Summer Theatre's production of Harold Pinter's Old Times was evident from the very beginning. Each entered the stage, occupying different spaces and relating to that space differently. This separation was enforced by the two elevated platforms, defining different regions of the set. The following 80 minutes or so was spent watching these three attempt to cross that separation, each in different ways, until the audience was unclear whether the two female characters were truly separate people, whether they represented the same character at different points in time or whether one or more of them had died.
Complexities like this lead folks to think that seeing Pinter is something they ought to do, rather like eating their peas. This is unfortunate, because the dry humor and comic timing make this a very enjoyable show. Like most good Pinter shows, it's peopled with slightly larger-than-life characters whose comic dialogue draws you in.  In short, you can relish this one without wasting too many brain cells about some ultimate meaning.
Described by the other characters as shy, Kate (played by both Cristina Anselmo and Courtney Walsh) comes off more langorous and remote than anything else. We know she goes for walks, and used to be into the arts, but can't remember which one. She's such the picture of repose and restraint she might not even be alive. Anna (also played by both Cristina Anselmo and Courtney Walsh) is Kate's opposite.  She's a city girl, not a country one.  She has thousands of friends, whereas Kate has one.  She's rushed, urgent, a high-energy nutcase.  Deely (Rush Rehm) is married to Kate.  His relationship with both is wrapped in memories and tension.
Deely's character is the difficult one, as it falls upon him to push Kate and Anna to some type of interaction.  Well-fueled with too much alcohol, he and Anna lurch forward in fits and starts. Characterized early as "a thief" who "stole my underwear" we're suspicious of this nutcase whose high-octane chatter reveals as much as it hides. Kate remains remote, only partially engaged, as if watching through a scrim.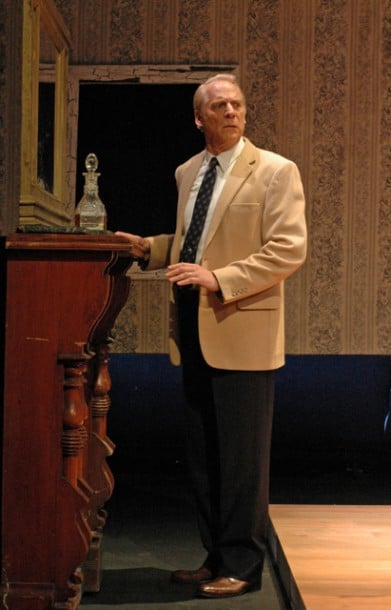 One of the fun notes of this show is all the Pinter pauses. Unlike most playwrights who let pauses fall naturally, Pinter demarcated them in the script with a unique particularity, ranging from short pauses to long pauses to silences. Watching what the characters do in these pauses is almost worth the show itself as some get filled with music, almost becoming very short breaks between scenes.
Old Times is part of Stanford's Memory Festival that will be running through August 24th.  Other offerings include Ted Hugh's translation of Seneca's Oedipus. 
Old Times

Stanford Summer Theatre

3 out of 5 stars

Directed by Jeffrey Bihr
summertheater.stanford.edu