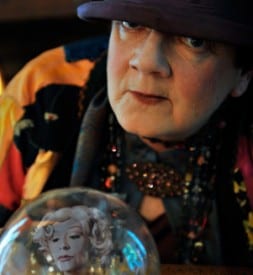 For those too young to have experienced a slice of cultural history first hand, Noël Coward (1899 – 1973) defined style for many Americans. His witty repartee, sophistication and outrageousness garnered him several pages in Barlett's Quotations and the Oxford Dictionary of Modern Quotations. His 1941 play Blithe Spirit enjoys repeated revivals, most recently in 2009. If you throw in movie versions, cast lists read like a veritable Who's Who, including Angela Lansbury, Richard Chamberlain, Twiggy, Geraldine Page, Rex Harrison, Lauren Bacall, and Claudette Colbert, to name just a few.
The Palo Alto Players' version of this play succeeded on many levels. Its untraditional dark lighting, with blues and other hues deeper than usual, subtly added a depth to this production that would have been otherwise lacking. Scenic designer Patrick Klein must have worked over time creating a lush, well-appointed set. Michael Sally (Charles) was on stage almost nonstop during all of this two hour and forty minute production and carried the show.
Unfortunately, however, the length of this play worked against it. Two hours and forty minutes is an enormously long time for what Coward called "an improbable farce." Even the lightest comedy needs something of substance for that kind of run time. Instead, we've faced with largely disagreeable characters – none of whom merit spending this kind of time with.
Debi Durst's take on Madame Arcati shared much with the British comic Benny Hill. This works brilliantly in a half hour sitcom, but gets aggravating when it goes on much longer. Characters played by Nicole Martin (Elvira) and Frya Shipley (Ruth) were aggravating at best. Petulant and blond, Elvira demanded so much bandwidth that one wished she'd just go away. Struggling to deal with the ghost of her husband's first wife, Ruth was slightly more sympathetic, but ultimately unsatisfying. Through no fault of the cast, one felt stuck spending almost three hours with people that weren't particularly likeable. While it's entirely possible to carry a production with unlikable characters, they have to be at least interesting enough to capture the imagination – which didn't happen here. It was left to Michael Sally to provide some counterweight to these three. One looked forward to seeing players Steve Schwartz (Dr. Bradman) and Breigh Zack (Edith) on stage simply because they broke up this unfortunate dynamic.
Director Cornelia Burdick Thompson introduced several sound and sight gags, such as the sound of a MS Windows start for Madame Arcati's crystal ball did add some lightness and were much appreciated by the audience.
The good news that came out of this production was the release of information about the upcoming 81st season of the player. The upcoming six-show season opens with Nunsense with a Twist, which is sure to be rib-splitting.
Blithe Spirit

2.5 out of 5 stars

Palo Alto Players
Lucie Stern Theatre, Palo Alto

Directed by Cornelia Burdick Thompson
Starring Breigh Zack, Freya Shipley, Michael Sally, Steve Schwartz, Leslie Newport, Debi Durst, Nicole Martin
June 11 through June 26
Photo credit: Joyce Goldschmid Photography