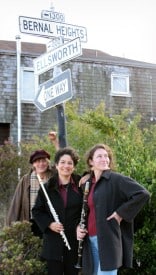 The past months have been a blur, going from Yuja Wang to Jonathan Biss to Lang Lang to Daniel Taylor to the other Mick Jaggers of the classical world.  I wouldn't give up this gig for anything, but it's been dawning on me that we're once again in a period where the focus is on the virtuoso performer.  As much as we get from these mindblowingly stellar performances, much gets lost with this relentless focus.  Unlike almost everything else we do, music is about people doing something together in real time. It's supposed to be a group endeavor, with the focus on the ensemble. This is where the grooming of star performers in conservatories seems misplaced. If you're not "the one," does the world lose your music? If it's all about the prima donna, what else gets lost? My own musical values were formed as much by singing beer commercials in the car as they were by getting schlepped to Bernstein's Concerts for Young People, hearing stories of cousin Stan's glory days of playing with the Dorsey brothers. I can't say they were all equally weighted, but it took all of them to forge a sensibility that music was something you did.  With the exclusive focus on the virtuoso, it seems we lose as much as we gain and are poorer for it.
All these still inchoate thoughts were in the back of mind when I was chatting with Jennifer Peringer. Peringer, a pianist for the Bernal Hill Players, also teaches at San Francisco Community Music Center.  As she explained, the SF Community Music Center has been in the Mission for eighty years. While it's a place for classical music lessons, Peringer noted that "it's grown into a place where all sorts of things happen." The words "community" and "music" are not misplaced in the name of the school that hides behind a verdant garden just off  Mission St.  This felt like coming home to a place where music was homegrown in the neighborhood.  Therefore, it was not surprising that the concert was titled "San Francisco:  In and about the City."
Let me say at the outset that I question classical music (with the obvious exceptions of leid, opera and theatre) that's supposedly "about" something.  Going down this path seems more literary than musical, and it's hard not to be suspicious of its limitations. That said,  the first notes of Saturday's concert quelled my misgivings. With pieces titled Suite de los Barrios (Chus Alonso), Birds above Fort Funston (Eric Pearson), The Bernal Hill Suite (Loren Jones), Episodes in China Basin (Katrina Wreede), Sutro Tower in the Fog (Peter Josheff) and Solsticio (Chus Alonso), the focus was on individual neighborhoods.  Buying into the conceit that this was about particular neighborhoods wasn't necessary to appreciate the lovely orchestration of clarinet, piano and flute trio (with added vocals and percussion).
Perhaps most strking was how seamlessly Bernal Hill Players played together.  Thoughout the evening flutist (Martha Rodriguez-Salazar) and clarinetist (Leah di Tullio) came together, pulled apart,  complemented each other with novel harmonies before going in disjoint directions.  Through it all, Perringer played under them, dominating briefly for a lush solo as in the Bernal Hill Suite before continuing to push the music forward.
While all of the evening's music was uniformly excellent, one of the more  interesting pieces  was Sutro Tower in the Fog. This opened with a wonderfully breathy sense, not entirely disjoint, but not entirely together either.  This was music to trip out on, perhaps a little like night music.  The music deepened as a new idea developed, repeated and moved on.
At the evening's end, I was profoundly grateful that this music was being made in the neighborhood.  In a very old-fashioned civic sense, this was about people coming together to make and enjoy music in the community.  While there's a lot of strong community theatre around, there isn't a lot of community music. SF Community Music Center is a rare gem – and listening to the Bernal Hill Players makes for a lovely evening out.  May both continue to serve the community another 80 years.