Wanna come up and see my coffin? About the only conventional element of playwright Philip Kan Gotanda's Love in American Times is the time-worn tradition of match-making. That plus a reminder: a few billion doesn't hurt when trying to earn the affections of a young, slinky woman half your age.
A world premiere, the show opened this week at the San Jose Repertory Theatre and stars San Jose's very own Linda Park, best known for her portrayal of communications officer Hoshi Sato in the television series Star Trek: Enterprise.
It all starts in a swanky New York bar and lounge — You Give Me Fever! Successful entrepreneur and world-famous playboy billionaire Jack Heller (J. Michael Flynn) arranges a meeting with Scarlett (Linda Park). All leg, she struts and flirts at the end of the bar, turning away suitors with the flick of a BlackBerry. But 70 year-old Heller, a man twice her age, is different. Soon the two egos are embattled in what amounts to erotically-charged, intellectual arm-wrestling.
Fair warning. The first clue you're possibly in for a big night of drinking, debauchery and partying (and a few gun shots): the instigator will likely appear bearing simple tap water.
What follows could very well be a first hand look into the lifestyle of someone like Larry Ellison, himself no stranger to frequent comparisons to God (What's the difference between Larry Ellison and God? … God doesn't think he's Larry Ellison).
Heller is still a driven man, and needs "just 5 more years" of focus on himself – a beauty queen like Scarlett could help him put a nice glossy coat on his over-the-top globe-trotting world of private jets, yachts, and personal assistants. But as she says, she's no "bimbo." Calculating, with a keen intellect that rivals Heller's, she's side-stepped corporate America and used a non-profit as a "platform" to get her places. Soon, an agreement is reached over shots of whisky, avant garde cheese (courtesy Mac the Cheese) and the pulsating background of a sultry jazz singer (wonderfully performed by Zarah Mahler – who later one-ups with some oozing sex appeal).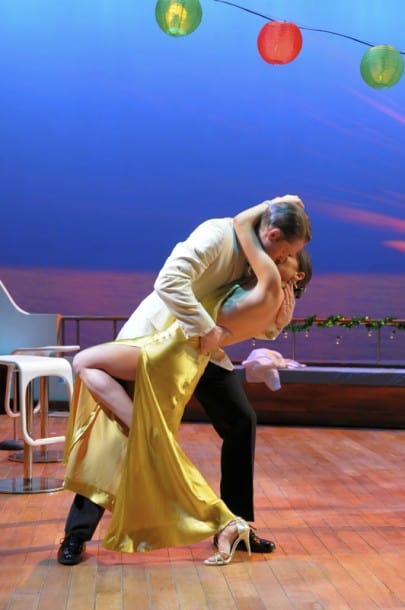 While the set-up had me intrigued, the second act didn't deliver entirely on the premise. It didn't help that the set changed from a gorgeous bar/restaurant bathed in blues and greens with a clever see-through wall into a very literal yacht – maybe a tad too Love Boat. Unfortunately at this point the play takes a turn towards camp, and over-wrought melodrama. Alternatively, we laugh, cringe and observe. This is perhaps a voyeuristic look into the lives of bored aristocrats. None of the characters are particularly likable which lessens any opportunity for emotional attachment. Instead we have a mish-mash of well-to-do whiners who like to drink a lot, shoot sharks, and sing karaoke while drinking Opus One. Okay, maybe it does sound like a pretty darn good time. But more so I suspect for the actors than the audience.
I'm not sure if it's a conscious effort by the Rep, but once again the acting is impressive, with an all-equity cast. J. Michael Flynn was particularly deft in the first act as the testosterone-fueled playboy who sees life as a perpetual test of the survival of the fittest doctrine. Linda Park was somewhat uneven, with some lines falling flat, or delivered with subpar conviction. She seemed to warm up by the second act, leading to a few strong moments – most notably when she's confronted by Heller's despising ex (Rosina Reynolds) and up-and-coming son (Craig Marker). Arwen Anderson (who I last saw in Mrs. Whitney and An Accident at Magic Theater) adds some welcome quirkiness thanks to some light-hearted flower power.
It's not often we see the subjects tackled in Love in American Times on stage. There's the classic rich man with a desirable and sophisticated young woman. Inter-racial love (perhaps). And the Asian American angle that gives the piece a fresh, contemporary perspective.
Love in American Times

by Philip Kan Gotanda
3 out of 5 stars
San Jose Repertory Theatre
Directed by Rick Lombardo
Starring J. Michael Flynn, Linda Park, Rosina Reynolds, Craig Marker, Arwen Anderson, Gabriel Marin, Zarah Mahler
May 12 to June 5, 2011
Photo credit: Kevin Berne.