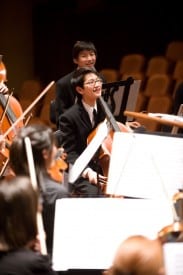 When I say San Francisco Symphony Youth Orchestra is a gift to the community, I'm not referring to the extraordinary experience that our young people have under the tutelage of conductors like conductor Donato Cabrera.  I mean it's a gift to the community. Where else can you get such stunning music at prices that would put even my tightwad mother to shame?  However, no sooner do the words "youth orchestra" come out of my mouth, people start getting uncomfortable. Perhaps less sophisticated people imagine high school or perhaps college musical groups.  More sophisticated concert-goers start making noise about how classical music requires emotional depth that's beyond the scope of teens.
There's one word for this: "Pshaw."  However, these arguments come up so frequently, it's time to take them seriously and hopefully put them to rest.
The Youth Orchestra has proven its technical chops so many times that trotting out their long list of awards would be a lengthy exercise.  Suffice to say that after winning the world's highest honor for a young person's orchestral ensemble, the City of Vienna Price, at the 15th Annual International Youth and Music Festival, there is little doubt as to their virtuosity.
The "emotional depth" argument is a modicum more credible. I had a minor revelation on this point when listening to Terry Gross's recent interview with James Levine, musical director of the Metropolitan Opera and the Boston Symphony Orchestra.  Gross touched on much the same question when she asked Levine how he could have possibly played Mendelssohn's Piano Concerto No. 2 for his debut with the Cincinnati Symphony Orchestra when he was ten. With typical Levine aplomb, he managed to dismiss the question, while simultaneously elaborating at length. Levine acknowledged the obvious benefits of age, saying "I hear a great deal of music differently now, because the more music you know and the longer you live, the more insight you have to the complicated music." However, he turned the question back saying "But fortunately, there are some pieces, and Mendelssohn's Piano Concerto No. 2 is one of them, that have a fairly exuberant and adolescent conception." Levine's remarks had me thinking about the critical issue of programming – and asking just how much of the music that we all love requires some emotional depth. However, while Levine's explanation was true enough, it didn't explain why the SF Youth Orchestra's recent performance of Webern's Im Sommerwind, an often overlooked gem, was the best I've ever heard.
Fortunately, I had the opportunity to speak with cellist Nathan Chan. Recently accepted into Columbia's joint program with Julliard, Chan was the perfect person to run this question by, as he has been playing with the SF Symphony Youth Orchestra for six years.  Having started with the cello when he was only five, Chan immediately understood what I was driving at. Chan explained, "what sets us apart is the time and care we put into addressing exactly that.  Others focus entirely on giving a perfectly technical performance.   Here, we have the ability to expand up."  Chan continued to elaborate, "Most pieces require emotional maturity to bring color and personality into it.  If you let these things slide, I feel that you aren't making music, you aren't sharing the experience."
Chan's answer brought his own depth to the conversation – and convinced me, more than ever, that the stunning performances I've been hearing weren't auditory hallucinations. His reference to "expanding up" brought in an element that I suspect may be altogether lacking with other youth orchestras.
While I had the chance to talk to Chan, I picked his brain about the Youth Orchestra's upcoming concert this Sunday, May 15th. Turning to the Bartok Divertimento, they'll be performing, Chen characterized Bartok as this "totally amazing Hungarian who takes folk music, records it, and then composes off of it. There's a lot of interplay between the principals – who play like a small concerto, and then there's this  back and forth, like a call and response,  between the smaller group and the whole orchestra." Chan continued to elaborate on the Holst piece they will perform. "The first time I played this," he noted, "it reminded me of these great epic movies – each movement could be great movie music. It kind of touches and connects to an audience in a way that is really relevant today."
Chan's exuberance was infectious.  The May 15th concert will be at Davies Symphony Hall at 2:00 PM.  I could not imagine a better way of spending a Sunday afternoon.