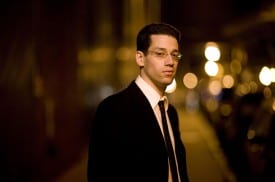 Conductor Peter Oundjian and the San Francisco Symphony were in great form for the performance of Beethoven's Piano Concerto No 5 in E flat and Brahms Symphony No. 3.  These two, combined with the seemingly deliciously random addition of Christopher Rouse's The Infernal Machine, made for a truly exceptional evening. As a conductor, Oundjian feels very much in the same linage as MTT and Leonard Bernstein.  Like the master, he's a irrepressible teacher, much to the delight of the audience who were treated to a brief analysis of the Brahms piece.
Rouse's Infernal Machine felt very much like John Adam's The Chairman Dances.  Both are driven forward by a relentless rhythmic string section that forms a matrix for other, more colorful sonorities. However, the similarities end there as Rouse's embedded gems are intensively percussive. The list of percussion instruments appearing the Symphony's website leaves one as breathless as the music: "glockenspiel, claves, tom-tom, Chinese cymbal, xylophone, tambourine, bongos, wood block, metal plates, rute, sandpaper blocks, antique cymbals, bass drum, conga drum, tam-tam, ratchet, timbales, slapstick, triangle, field drum, cuica, maraca, vibraslap, tenor drum, snare drum, castanets, suspended cymbal, hammer, and sizzle cymbal."  This perpetual motion machine pushes forward for brief five minute, leaving the listener bedazzled.
Beethoven's Piano Concerto #5 was the perfect showcase for pianist Jonathan Biss.  Being fortunate enough to have seats where I could watch him hands, I was stunned at the muscularity and confidence of his performance.  The rapid arpeggiation remained at once fluid and distinct, which is nearly impossible at the lightning speed his fingers flew. The intensity that he and the orchestra brought to themes of the first movement created such a bulwark that it drew attention to the delicately elongated and exquisitely restrained Adagio.
The intermission was well-placed as the Brahms Symphony No. 3 would have been entirely too much of a good thing.  Moreover, placing this after the Beethoven and Rouse, provided some emotional breathing space. Austrian conductor Hans Richter called this F major symphony Brahms' Eroica. While Richter's remark has been debated at length – and is no doubt overstated – performances of this caliber allow one to see how this comparison could be made. The repetition of a single short expression lends a thematic coherence and unity that follows through all four movements. With all the expressivity of the Beethoven concerto, but little less of the bombast, all four movements end softly, hushed, some with a note of melancholy. The clarinet substitutes for the Beethoven's extremes
An added treat – showed what Oundjian called "Brahms in a more extraverted mood,"  namely, the addition of the Hungarian Dance No. 6 in D major, orchestrated by Schmeling. This short upbeat piece was a glorious end to a very memorable evening.