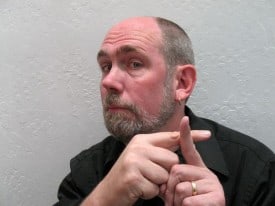 After walking away, 30 years ago, from an eccentric fundamentalist church called "Happy Chapel," actor, journalist and NEA-honored theater critic David Templeton has finally stepped up to tell his outrageous true story. In the confessional style of Christopher Titus' Norman Rockwell is Bleeding and Spalding Gray's Monster in a Box, Templeton employs plot-driven storytelling, vivid impersonations and a stream of Carlinesque commentary, leading audiences on a wild ride through a 1970s, Southern California landscape of spaced-out believers, tongues-spouting surfers, and radical evangelical puppeteers, with cleverly conjured descriptions of an acid-dropping minister named Reverend Dude, an affably sinister alien puppet named Sam Galaxy, and a beautiful teenage believer who wets her pants … for Jesus.
Beginning with the author-performer's roller-coaster childhood as the much bullied son of a loving but suicidal lounge-singer, the show traces Templeton's evolution from giddy 11-year-old Christian convert (he actually memorized the lyrics of 'Amazing Grace' forwards and, literally, backwards) through his eventual radicalization as the "shepherd" of the Downey High Jesus Club, where he learned that trying to be like Jesus was likely to get him crucified—by other Christians.
Infused with smoldering cultural and social references from 1960s & '70s, Wretch Like Me opened in September of 2009 as part of the Sonoma County Fringe Festival.
Templeton has been a Bay Area journalist for over 15 years, writing for the North Bay Bohemian, Strings Magazine, Pacific Sun and TBA Magazine, among others. He is the author of the popular column "Talking Pictures," his quest for the ultimate post-film conversation. Templeton also reviews theater as a member of the San Francisco Bay Area Theater Critics Circle, and talks about the theatrical arts in his weekly radio show "Second Row Center," on KRCB. Today, he considers himself a recovered Christian, but would gladly have a beer with Jesus should he ever actually return. Though no longer a practitioner of puppetry, Templeton does occasionally talk with his hands. Wretch Like Me was directed by David Yen, and is produced by Dan Zastrow and Julia Lander.
Wretch Like Me

by David Templeton

Award-winning show tells outrageous true story of a former teenage fundamentalist—and how he was saved from being saved.

WHERE: The Roxie Theater, 3117 16th Street, San Francisco
WHEN: May 5, 6, 7, 19, 20, 21 at 7:00 pm and May 22 at 2:00 pm
TICKETS: $10-$12