Guest post by Bob Jamison.
Stomp is often defined as a percussion performance but it's much more than that! Stomp is about making music with whatever might be around you and the energy that comes when everyone joins into the fun. Even though the show is celebrating its 14th year on tour this year, this was the first time that I was able to see the event live and I was impressed by the variety of music they produced. Fast, furious, heart-pounding, riveting excitement are some of the ways to describe the energy that permeates the show (see cast interview and demonstration on this Stark Insider episode).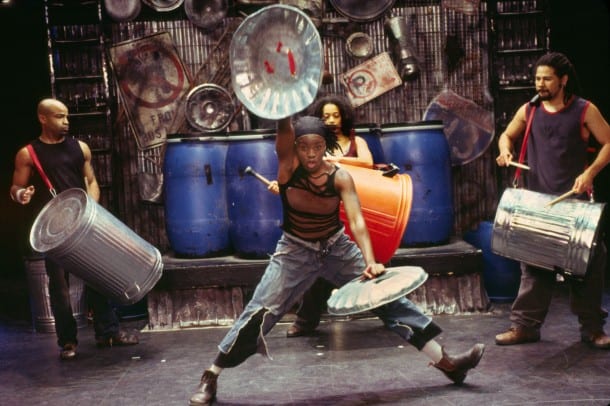 Stomp's creators Luke Cresswell and Steve McNicholas originally performed together in the London street band Pookiesnackenburger in 1981 and are still part of the music development and directorial portions of the show. After their creative percussion contributions for a Bette Midler HBO Special in 1986 and four large scale events including the Heineken Hove Lagoon Show, McNicholas and Cresswell premiered Stomp in 1991 at London's Bloomsbury Theatre and since then the production has spread its energy through over 350 cities in 36 countries. Now with permanent shows in London, New York, Las Vegas and both a European and US tour group Stomp is making noise for the masses every night around the globe.
During their now running US tour guests first see the colorful stage that was full of things that appeared like construction devices and those that appeared to be merely trash, however the Stomp troupe was able to make music with something as simple as a newspaper. Most Americans have heard of Stomp and as one usher commented "Get ready for the Trash Cans" but there was much more to the show than skillful playing of items that resembled drums. There was quite a bit of skilled tapping and dancing throughout the show and some of the performers such as Donisha Brown have a great skill at taking a beat and transforming it into an all out musical outburst of energy. The 8 performers who performed throughout used a broad set of instruments such as brooms, cigarette lighters, metal sinks, trash bags, and even what appeared to be plastic drainage pipe to produce a catchy urban beat.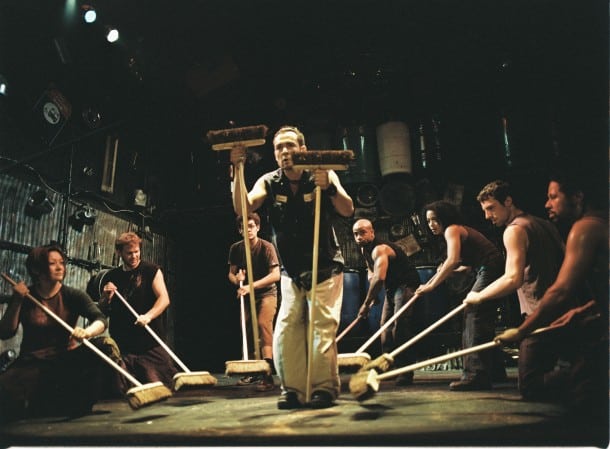 The performers incited a large amount of energy in each other and the audience. Not since Mama Mia (also playing during the 2011 Broadway San Jose season) have I seen so much audience participation. Each of the "scenes" in the production began with a catchy "setting the stage" such as a simple janitorial cleanup which transitioned into a full blown street party as more performers joined in then broomsticks started flying, literally. Without dialog and only through what sounded like primal grunts, non-verbal queues, and lots of clapping and snapping the performers incited not only applause but they also tempted the audience to make their own music and join in the stomping.
Stomp by Broadway San Jose is playing at the San Jose Performing Arts Center playing until April 17th. Tickets range from $20-$69 and are available at www.Broadway SanJose.com or by calling (408) 792-4111.