Produced by Marquee Productions, director and choreographer Kevin Hauge offered up a new take on the classic Chicago. Performing this type of show with any degree of success is darn hard. Most critics damn you for overreaching and doing something designed for a larger stage and professional team. Hauge and company pulled off a small miracle, staging this at the small Montgomery Theatre. If you haven't seen Chicago before, you could do far worse than checking out this production, which will be running for two weeks.
Tight choreography and flawless execution of the Fosse moves underlie the success of this show. I'm old enough to remember the first Broadway show advertised on television, a one-minute snippet of Pippin that turned a generation on to Fosse choreography. A host of contradictions, Fosse's work was both liquid and edgy, having an organic plasticity and an utterly contrived form that hid as much as it exposed. Both sinuous and fleshy, it got our attention, demanded that we stop in our tracks and watch. This production works so well because it stays true to that original impulse. Rarely in theatre is there an opening number that either makes or breaks a show. In this production, All that Jazz is executed so impeccably that you can relax for rest of the show. Not only will you be wowed by the moves of individual dancers, but you'll be stunned how they work together as a synchronous whole. While viewing dancers as a group is older than the Rockettes, with Fosse shows, the dancers move more like an octopus, each an appendage of the whole beast, so that you can focus on individual tentacles slithering or watch the whole beast move across the stage.  I'd love to see this number again and again.
The second reason many productions of this show fail is because the audience writes off the female lead early in the show. There isn't much that is likable or sympathetic in Roxie Hart – which means that her moves and her voice have to be so interesting that the audience doesn't dismiss her early in the show. Here, the audience is introduced to Hart, played by Shannon Self, as she lingers on the second tier of scaffolding where she delivers Funny Honey. Whether wrapping her voice around the notes  or entwining her legs on the scaffolding, she's intriguing enough that we watch her in spite of ourselves.
I'd be remiss if I didn't mention the considerable talents of Michael Mulcahy, as attorney Billy Flynn, and Mary Kalita as Velma Kelly. Mulcahy started at the Children's Music Theater forty years ago. More than any other character, he drives the plot forward with an easy dynamism. Thanks to Kalita's considerable talents, this production rises above others in which the Velma Kelly character is little more than a foil for Roxie Hart.  She brings her own panache to this role, serving it up with a self-satisfied smirk.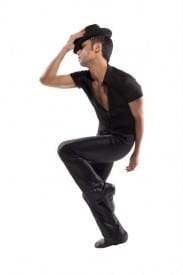 This production benefits San Jose Children's Musical Theater. In a post-show pitch from the stage, Mulcahy – who first performed at CMT 40 years ago – dropped the phrase "grew up in the theatre."  You might think you know what those words mean. "Grow up in the theatre" means having a dedicated work ethic at an early age. It means being informed by a particular set of cultural references.  It means learning to use your body and mind to create an illusion so real it becomes true.  It means being let down and making repeated mistakes more colossal than you could imagine and having the cojones to come back for more and succeed. It means having discipline and confidence that go far beyond the stage.  Being part of this magic is something that all of our children should have. Successful children's theatres like Palo Alto Children's Theatre and the San Jose Children's Musical Theatre know this – and have the alumni like Mulcahy come back to make the point again.
Do check out this production of Chicago. We're lucky to have good children's theatres in our community.  It's even better that we can support them by attending such fabulous productions.
Chicago
Montgomery Theatre, San Jose
3 out of 5 stars
Directed by Kevin R Hauge
Mary Kalita ~ Velma Kelly
Shannon Self ~ Roxie Hart
Michael Mulcahy ~ Billy Flynn

Photo credit: Chris Ayers