This is Part 2 of Janice's Buenos Aires getaway. In case you missed it, Part 1 is here. Happy travels!
Day 2: Exploring the hipper side of BA
Before setting off, I armed myself with reams of notes garnered from the latest magazines, websites and some brilliant suggestions I was given by Loli Marino.  Loli is a local "trip designer" with impeccable taste. If you're looking for a new restaurant that is so hot it's still sizzling, or where to buy the best handmade leather boots, or if you would love to go to an artist's home for a private viewing, Loli is your go-to gal. Pull up her website, tell her what you're interested in and Loli will create your dream itinerary complete with your own personal "What Loli says" booklet to follow.
Here's what I discovered:
See:
-Zavaleta Lab is just one of a new group of contemporary art galleries that have moved to the cobblestone streets of historic San Telmo.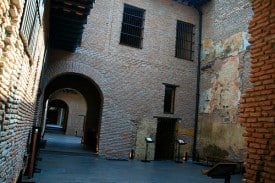 -Take a archeological guided tour of El Zanjón, a beautifully restored home from the 16th century.
– Milongas (tango dance parties/classes) are perfect whether you want to click-up your heels or simply watch from the sidelines. They are mostly found in basements of dilapidated social clubs or community centers. The crowd at La Viruta www.lavirutatango.com came in all shapes, ages, and levels of expertise, making for a fun watch.
Shop: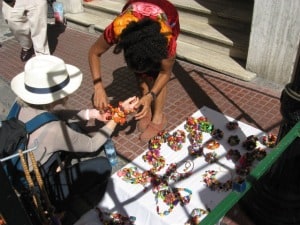 -Most visitors go to San Telmo for the pricey Sunday Antique market at but if you're looking for some more reasonable deals and like arts and crafts, there are over 10 blocks of local artisans selling their wares along Defensa Street. I picked up some fantastic leather and sliver bracelets, a handmade, one-size-fits-all pair of linen travel pants (which looked much better on the 100 pound designer boy than me) and an adorable Mafalda shoulder-bag.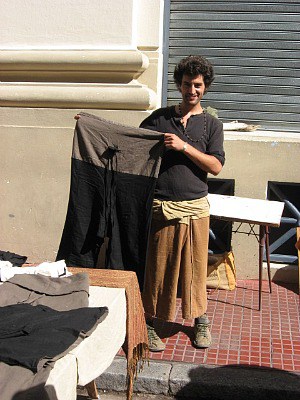 Tip: To see Mafalda, almost in person, look for her sitting on the bench at the corner of Chile and Defensa.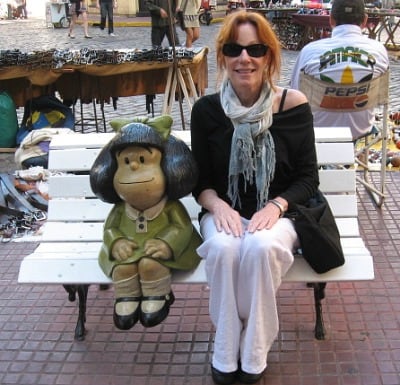 -At four pesos to the dollar, now is the perfect time to take advantage of the high-quality, designer boutiques that pepper B.A.
A few of my faves include :
In Recoleta:
Bettina Rizzi-gorgeous hand made leather jackets
Celedonio Lohidoy- over-the-top, ornate jewelry
Comme il Faut- unbelievable tango shoes
In Palermo:
Fantastic clothing designers here can be found all along Armenia and Gurruchaga streets and many of the intersecting blocks.  Some standouts are Cora Grouppo, Mariana Dappiano, Maria marta Faccinelli and Mariano Toledo. Handbag and shoe aficionados will want to pop into Mishka, Josefina Ferroini, Jackie Smith, Mandarine, Tossone, Mule, Mariano Bress, and Humawaca.
More eclectic finds: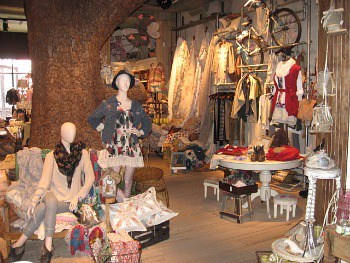 Mi Shop- innovative, award-winning designer, cowhide handbags
Noir-Gorriti 5607 Artistic accessories . Loved their one-of-a-kind felt collars.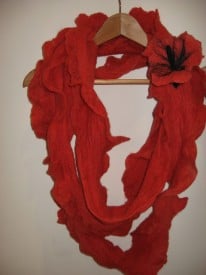 Anika for contemporary jewelry, belts and bags.
Casa-Chic – super décor, filled with repurposed clothes
Tip: Keep walking north about 8 blocks on Gurruchaga  and you'll reach the outlet area. Join the throngs at Prune Outlet – Gurruchaga 867 stocking up on last seasons handbags-about 20% off.
Eat:
-TO Restaurant- Cool minimalist décor with BA's first sushi conveyor belt delivering some tasty Fraponaise food ( French-Japanese creations.) When I met the engaging owner, Toufic Reda, I asked what the name meant.  He replied laughingly, " TO is my nickname. I'm originally from Lebanon, was born on the Ivory Coast, lived many years in Paris and China, studied in London, and have a Canadian passport. So what else could I do but open a Japanese restaurant in Argentina!"
*Don't miss the succulent Kobe Beef carpaccio
– La Cocina Discreta (Villa Crespo)
This is one of those exciting, secret handshake kind of private restaurants (puerta cerrada) that are springing up behind closed doors all over town. Chef- owner  Alejandro creates a setting that will titillate  all your senses. Entering the cozy apartment you'll find the walls are covered with works by up and coming artists (Alejandro's  elephant photos from India were fab), a mixed tape softly playing  in the background that's a compilation of  tunes gathered from Alejandro's travels around the world, and scrumptious food. (Finally, I got someone to cook the succulent beef tenderloin just the way I like it-rare!) Since I was solo, I scored the best seat in the house- at the kitchen counter, where I could watch the chef in action. (Pic of Chef Alejandro below)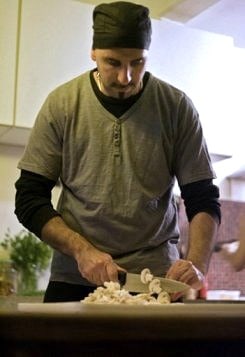 –Lo de mi hermano (At my brothers)
George (from my hotel) turned me on to this new Palmero parilla, conveniently located just a few doors down. In whispered tones, he revealed that while everyone knows (and loves) the spendy restaurant, Cabrera, Lo de mi hermano purchases it's meat from the same purveyor and their menu is about half the price. Head upstairs to outdoor deck and dig in to the Flintstone-sized Bife de Lomo with roasted garlic cloves, ending with some home made lemoncello.
Lo de mi hermano,  Gurruchaga 1824, Buenos Aires, Argentina
-Florencio, a little jewel box of a bistro hidden away on a side street, at Francisco de Vittoria 2363,  right by Recoleta Cementery.  For a little après-graveyard pick-me-up, order a coffee and the deliciously decadent cheesecake covered in chocolate and caramel.
When I returned to my hotel room, lugging six shopping bags filled with all sorts of special prezzies, wearing my new street jewels and humming the last tango tune that was stuck in my head, I swear Mafalda gave me an approving, you-go-girl wink.