"What do you mean I don't have a reservation?" I asked incredulously when I went to check in at the exquisitely appointed front desk of Legado Mitico, after a very long travel day. Seeing that I was just baby steps from a complete meltdown, George (one of the desk managers) solicitously led me to a comfy seat in the library-lobby next to the crackling fireplace, brought me a glass of wine and said in impeccable English, "Don't worry, I will straighten this out immediately."
As I looked around the sumptuous room and saw that one wall was filled with leather-bound books all about Argentina, while vibrant paintings enlivened the others, the colorful accent pillows were tastefully arranged just-so on the buttery-soft leather couch and spied the inviting outdoor terrace surrounded with greenery, lounge chairs and a bubbling hot tub, my eyes actually watered a bit.  I really, really wanted to stay at this charming hotel located in the beating heart of trendy Palermo Viejo nabe.
The hotels architects cleverly designed each of the 11 rooms around a famous Argentinian historical figure- ranging from tango master Carlos Gardel to author Jorge Luis Borges. I had hoped to score Evita's room.
A mere three sips of Chardonnay later, George returned. It turned out that there had been a communication glitch (completely NOT their fault) where I had thought my room had been all confirmed and it hadn't. Thankfully, there was a last minute cancellation so they were able to accommodate me. As George led me to my room, he apologized that it was the smallest one, but assured me that I would be quite comfortable.
The door opened to an immaculate corner room, delightfully decorated in black and white with lipstick red accents, George said, "Welcome to the Mafalda room" and left .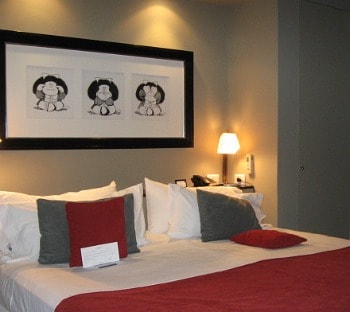 Say what???? Who the hell was Mafalda???  I quickly deducted that she was the girl in the framed cartoon hung over my bed and toilet. Hmmm- hardly on a par with Evita!
I later discovered that Mafalda is a precocious six year old girl in a beloved Argentinean comic strip (very similar to our Peanuts) that began in 1964 by cartoonist Joaquin Salvador Lavado, better known by his pen name, Quino. She's quirky, curious, witty, rebellious, outspoken and is so concerned with the world's problems that she wants to become an interpreter at the U.N. so she can translate disputing ambassadors' slurs into compliments. She's a huge Beatles fan, hates soup, and has an opinion on just about everything.
Was George psychic? This was the perfect room for me. Since I was traveling by myself, I needed a new BFF and I instantly felt a kinship with Mafalda. I felt her questioning presence alongside me as I explored the city, reinforced by the fact that her face and pithy sayings can be found plastered on everything from handbags to tank tops.
Tip: Legado Mitico  is one of a select collection that is part of The Best Boutique Hotels group. To be accepted by the BBH is kind of like our Good Housekeeping Seal of Approval. If you're looking for a small, unique, luxurious hotel stay anywhere in Argentina check out their website: www.thebbh.com.
Day one: Iconic Buenos Aires
I woke up the first morning to a delightful continental brekkie that I enjoyed al fresco on the zen-like terrace. Since BA is a sprawling city loaded with tourist treasures, I decided to take the easy way out and buy a ticket for the Hop on Hop off Bus Turístico which allows you to check off many of the tourist highlights in one fell swoop. Buses run every 30 minutes, providing full commentary throughout the 12 stops.
Hop out at Plaza de Mayo, the city's centerpiece and ask someone to point out the famous balcony at Casa Rosada (Pink House) where Eva Peron delivered her inspiring speech to the masses. Later, you can pay your respects at her final resting place at the photogenic Recoleta Cementery.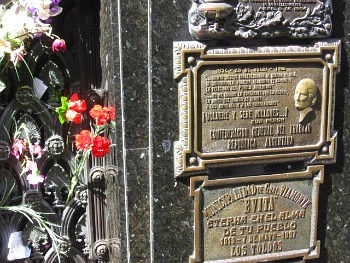 Snap a pic of the wild rainbow-hued corrugated iron homes lining Caminito Street. Re-energize with a café con leche and churro at the country's oldest coffee house, Café Tortoni, where artists and intellectuals have gathered since 1858. (Mediocre tango shows are performed nightly in a crowded backroom.)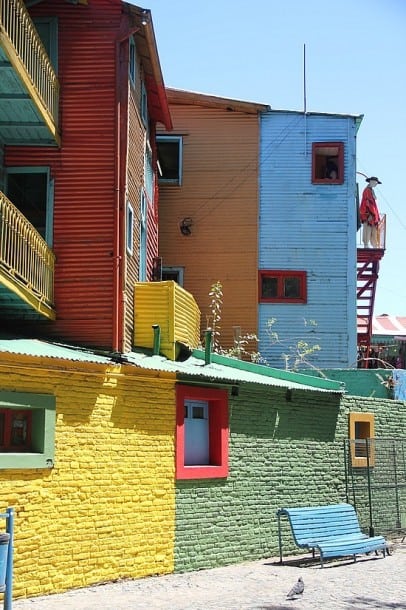 Stop in to gawk (or take the guided tour) of the glorious seven-story Teatro Colón, recently reopened after a 3 year refurbishment. The theater's acoustics are so superb that some singers are afraid to perform there since any imperfections are  greatly magnified, which certainly didn't stop Enrico Caruso, Plácido Domingo, Luciano Pavarotti or Andrea Bocelli, just a few of the luminaries that Teatro Colón has hosted .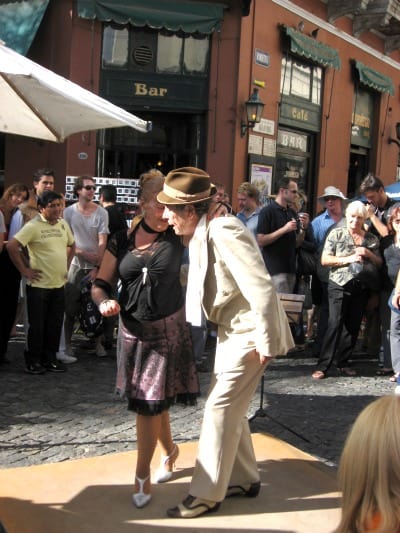 If it's Sunday, the antique market at San Telmo's Plaza Dorrego will be jammed with hundreds of stalls piled with bric-a-brac from past eras. The street intersections are home to impromptu music and tango shows.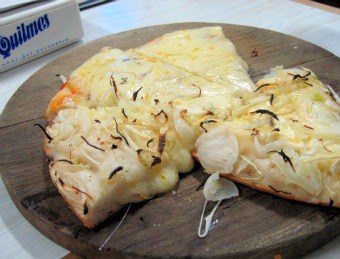 Two iconic dining choices that cover either end of the price sector make excellent picks for either lunch or dinner. For a quick, economically-priced meal, grab a slice at pizzeria fave, El Cuartito. Their most popular pizza is the all-white "Fugazetta", consisting of a pillowy crust that is simultaneously soft and crunchy, laden with a melted mountain of cheese and chopped onions. If you'd rather an empanada, Anthony Bourdain loves the tuna one. Check out the old sports posters which plaster the walls as you sip on an icy- cold draft Quilmes beer. Try and save room for the silken flan with dulce de leche.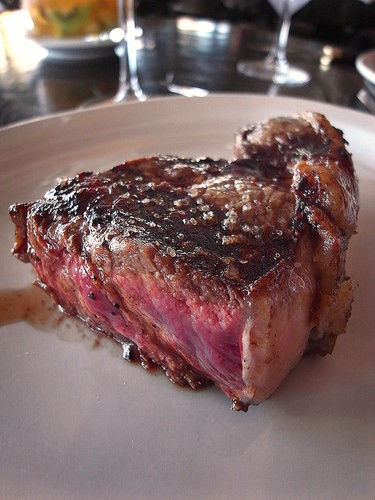 For about ten time the amount of your lunch tab, head over to Cabana las Lilas, one of the top rated parrillas (Argentinean BBQ) located in Puerto Madero, the renovated red-brick dock area. Put your name on the waiting list for an outdoor table, (they'll give you a beeper which will let you know when your table is ready) and stroll the picturesque port until you spy the Puente de la Mujer, a gracefully- designed pedestrian suspension bridge that represents a couple dancing the tango. Head back for an unforgettable dining experience, featuring a superb wine list, a most welcome selection of salads ( try the arugula salad and shaved fresh Parmesan cheese) and you can't miss with any of the fork-tender cuts of purebred beef from Cabaña Las Lilas' private ranch, further enhanced with a spicy Chimichurri sauce.
Tip: No need to order dessert since they bring you a complimentary plate of various sweeties.
I returned exhausted, stuffed, and a little tipsy after my bottle of sultry Malbec, to my tranquil little haven at the Legado Mitico. I said good night to Mafalda, promising the little rebel that tomorrow I would go off the grid and sleuth out some less touristy sites.
Next up: Part 2.