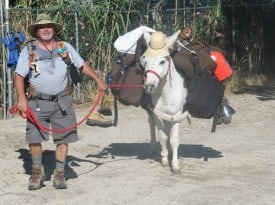 Fun little bit of inspiration on this Monday. A 61 year-old man walked 1,147 miles down the Baja peninsula with only a Burro and two pet dogs as companions.
According to one report he almost died of dehydration at one point, and by the time he reached Cabo San Lucas he had lost 41 pounds. This is a hell of a way to diet!
Mike Younghusband said he wanted to let Americans and other people know that the Baja is really safe.
I'm not sure I'd recommend this for everyone, but it's a nice reminder of how safe the Baja really is, especially Baja California Sur (the southern state). The continual barrage of media reports have certainly not helped the region's reputation. That seems to be changing though as tourism is on the mend, and more flights are being added to destinations such as Loreto.
"I've done my duty."
My favorite part of the article is when he says:
"Now it's time for grandpa to go out and have fun. The world is mine, and I intend on grabbing a big chunk of it."
Here, here. Congratulations on a heart-warming story and adventure!
[SignOnSanDiego]
Photo credit: Ed Zierlalski.
Thanks John P for the story tip!