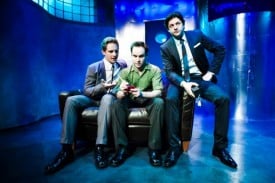 Here's an intriguing question. If you could implant a chip in your brain that would make you uber-smart and give you the ultimate advantage in anything you did, would you get it? And… how far would you go to attain the power?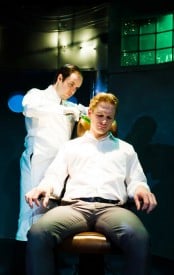 These are just a few of the questions that arise in Wirehead, a thought-provoking thriller now playing at the San Francisco Playhouse. I sat down with Susi Damilano the producing director at the theater and the director of this production, to talk about the very timely topic of artificial intelligence, computers, and the advancement of information technology (we also shot a behind-the-scenes segment).
In a recent TIME magazine featuring futurist Raymond Kurzweil the notion that man will become immortal is explored: Kurzweil "believes that we're approaching a moment when computers will become intelligent, and not just intelligent but more intelligent than humans."
In fact he suggests that the "end of human civilization" is only about 35 years ago.
The idea of humans and machines merging has always fascinated me. In some ways, with mobile devices always at our sides, keeping us over-connected, perhaps we're already well on our way to becoming one with our iPads, our iPhones. Given the rise of the touch interface, where we so elegantly swipe and use gestures to communicate, as Susi talks about here in this interview, there seems to be fewer obstacles separating the human identity with those of a machine.
I'm not so sure what a world will look like with super-cyborgs running around. No doubt as we and information technology evolve there will be increasingly complex questions surrounding morality and ethics. The topic definitely has a dystopian quality… which, come to think of it, makes for an entertaining evening of theater in San Francisco!
Here's the full interview. Let me know what you think… are you for the machines, against the machines? Or would you rather just have a nice glass of Chardonnay and kick back with some friends?