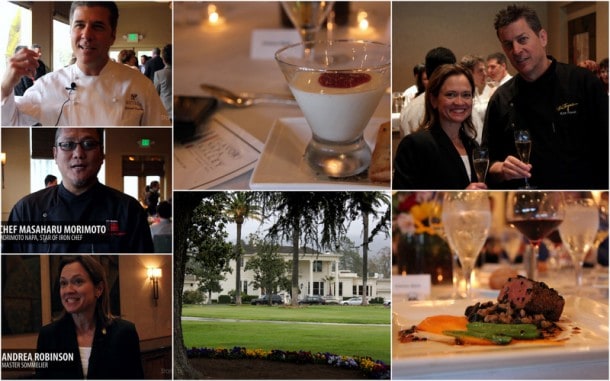 The idea started about 9 months ago when Chef and TV host Michael Chiarello made a phone call. Why, he wondered, didn't Napa have its own world-class food and wine celebration? Aspen, Miami Beach, Pebble Beach all have them. As he says, "We deserve one!"
Chef Ken Frank (La Toque) points out that unlike other events such as Miami Food & Wine, Napa won't need to import chefs and wine for the event. It's all here, right at home.
Here's the video of the launch celebration at the beautiful Silverado Resort and Spa- perhaps even prettier in the drizzling rain. Appearances here by all sorts of recognizable food, wine and trade including: Iron Chef Morimoto, Chef Michael Chiarello (Bottega), Master Sommelier Andrea Robinson, Charles Henning of the CIA (Greystone), Napa Vintners President Kathleen Heitz Myers, and more.
The inaugural Flavor! Napa Valley takes place Nov 27 -29. According to organizers the event will feature cooking demonstrations, grand tastings, seminars, a fun sommelier challenge… and, yes, I'm sure even a glass or two of wine will be poured.
What was said:
"I don't think you can get a greater, more exciting group of chefs in any region other than the Napa Valley." – Clay Gregory, Napa Valley Destination Council.
More Napa Coverage:
"As a modern chef today you end up going to South Beach, going to New York, going to Aspen, going to Pebble Beach. And I look around the Napa Valley where I've lived for the last 24 years… right in the middle of America's Tuscany. How about Napa Valley?" – Michael Chiarello, chef-owner Bottega and Napastyle.
Proceeds from the event will benefit the CIA (Greystone). Charles Henning said, "Our students are in need of financial support to make their studies more affordable… it' a win-win."
"Life is about relationships so we look forward to visiting old friends and making some new ones." – Kathleen Heitz Myers, board president of Napa Vintners.
And, finally, Clint wondered: "Where's Loni?!"